Exhibition "In Memory of October 1956" Opens
2016. October 20.
An exhibition showcasing artworks produced by regular members, corresponding members and non-academic members of the Hungarian Academy of Arts opened on 19th October 2016.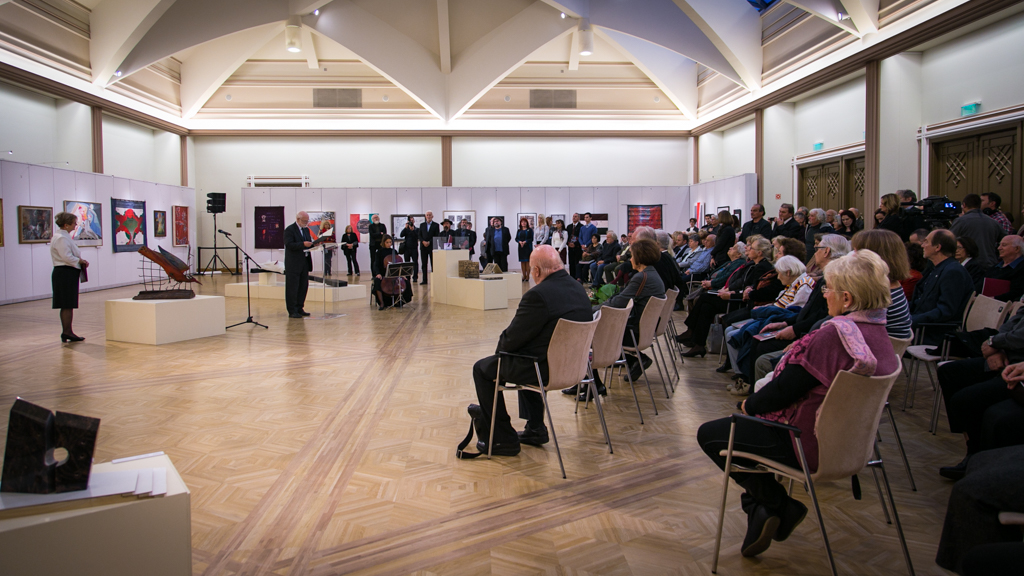 At the opening of the exhibition, President of the Hungarian Academy of Arts Professor Emeritus György Fekete expressed his gratitude to "the passing time, which prevented us from forgetting not only the magnificence of the victorious Hungarian Revolution of 1956 but also the miracle caused by those outstanding persons, both in Hungary and abroad, who have been curing the physical and psychic wounds caused by the Revolution". The President added that this exhibition commemorates an ultimate triumph over the death of the Hungarian nation, which was a haunting thought in 1956. Minister of Human Capacities Zoltán Balog stressed that art possesses such mediums and inspiration that can function as a vehicle for presenting the truth, and he interpreted this exhibition as a means of doing so.
The exhibition, located in Pesti Vigadó's 6th floor Exhibition Halls and open until 8th January 2017, was opened by Regular Member of the Hungarian Academy of Arts poet and historian István Kovács, and violoncellist Dóra Sík played music at the opening event.
Thematically connected to the above event organised by the Hungarian Academy of Arts, an exhibition featuring children's drawings opened in Pesti Vigadó's Café. This latter exhibition offers free entry.
Please, visit the website of the Hungarian Academy of Arts for more information.