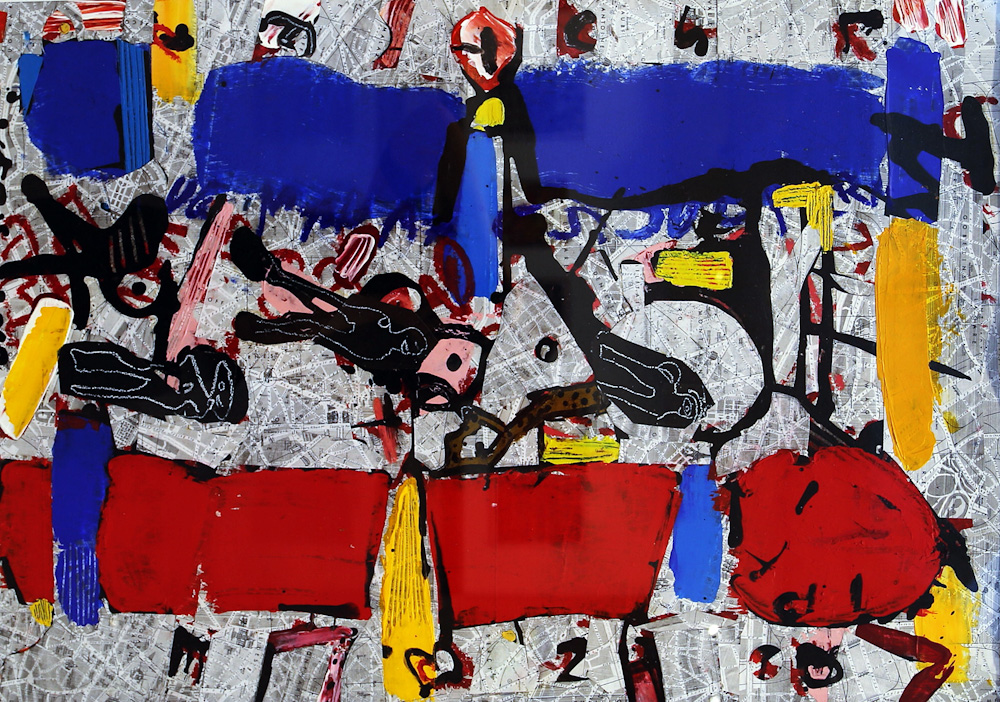 1971: András Végh is in Paris for the first time. The city offers him a "sense of light and freedom" and grants him a place to experience "strong traditions, a pulsating present and the creative powers of painting seeking and shaping the future".
2019: collage, patches of paint. Tricolour, France, Montparnasse, boulevards, shapes, River, bridges. Bridges.
2020: the world that we know becomes paralysed. In the realm of imagination, fantasy and nostalgic feelings fly high. Certainty, hope, plans and destinations start to malfunction and decompensate, and they all shrink into abstract patches of sometimes faded and sometimes vivid hues. Paris? A dream.
The first things that we associate with Paris after the Champs-Élysées, the Eiffel Tower and the Louvre are the banks of the River Seine and the bridges connecting the two sides of Paris. These bridges in fact also played a key role in the long history of the town. In Paris the River Seine is identified as a spot that one can take for granted: the River helps one orientate themselves, and through its ever-changing character symbolises constancy.
There are altogether 37 bridges across this romantic River in Paris. Pont Alexandre III, constructed between 1896 and 1900 for the Paris World Fair, is often referred to as the most beautiful bridge of the town, probably thanks to its gilt bronze statues. When one crosses the Pont des Arts (the Bridge of Artists), built in 1803 and reconstructed in 1984, they get a view of the Eiffel Tower and Notre Dame, but this wooden pedestrian bridge is most famous of its love locks fastened along its railing. The construction of another bridge, Pont Neuf (New Bridge) began in 1578 and was completed in 1607, which means that this bridge, despite its name, is the town's oldest bridge still in use.
On his 2019 artwork created using several techniques, András Végh is portraying his notion of a unique and expressive image of Paris' objective world in a subjective manner: even if we cannot meet Paris face to face now, with the help of our imagination buttressed by a painter's imagery associations, we can wonder along the banks of the River Seine and walk across the town's bridges over the River while visiting Pesti Vigadó.
"We need more imagination and fantasy than reality because imagination and fantasy help us soar to the heavens while reality binds us to the ground. Painting [...] offers colour, energy, poesy and expressive power."
Original Hungarian-language source of quotations: István Antall, A láthatatlan világ festője [Painter of an Invisible World] (2008). In: András Végh, Berta Mayer and Marcell Végh (eds.), Kugler Könyvek Sorozat. Végh András. Budapest: T'Art Alapítvány.