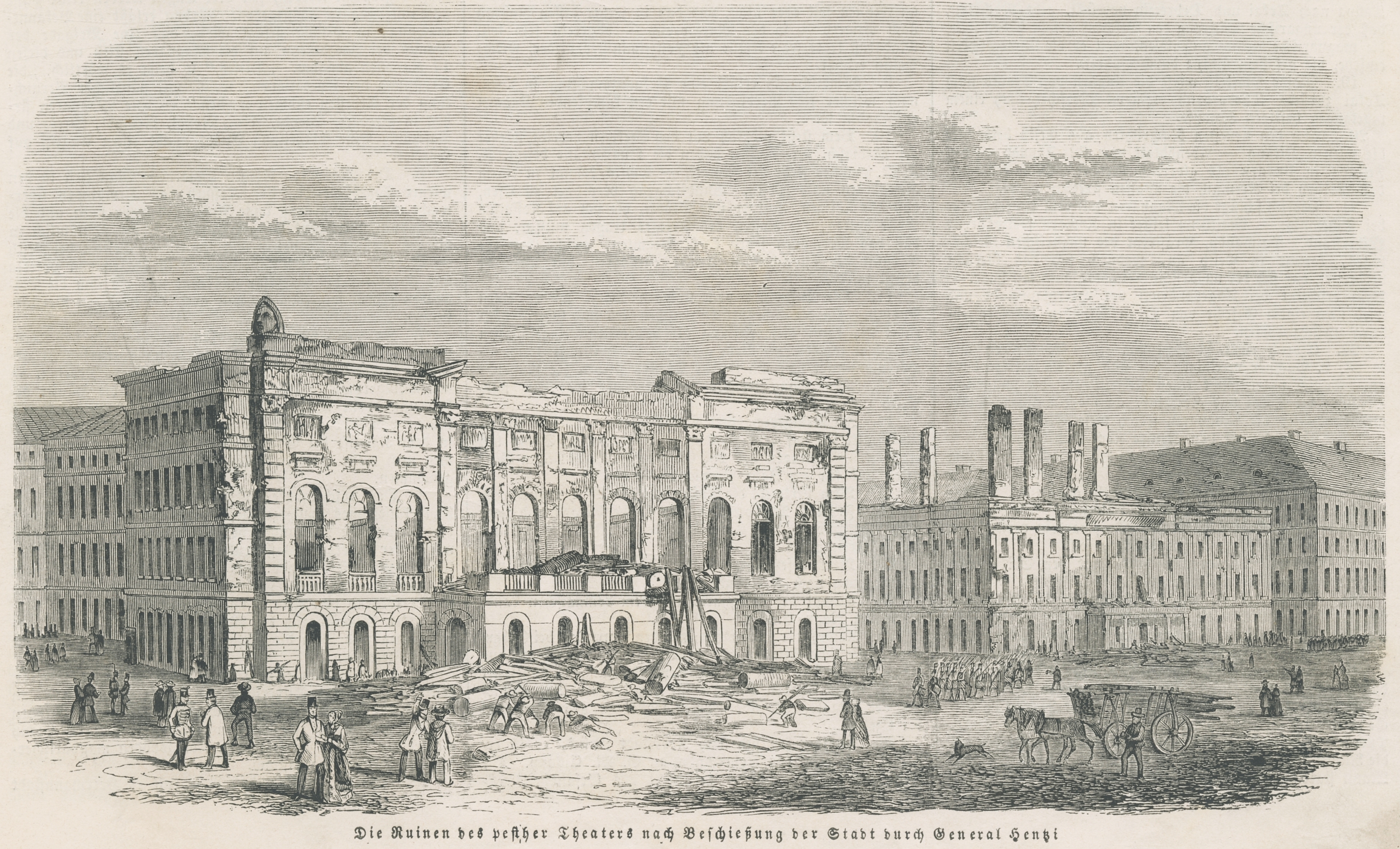 Mosaics from Pesti Vigadó's History
The town of Pest was to pay a high price for its disobedience during the Spring Offensive of the Hungarian Revolution of 1848-1849. It was at this time that, among many other buildings, Redoute was destroyed: designed by Mihály Pollack and opened to the general public in 1833, this building formerly stood in the place of Pesti Vigadó and was, in its time, considered the pearl of Pest's row of Classicist-style palaces lining along the Danube Embankment.
During the Spring Offensive of the Hungarian Revolution, the Hungarian troops, headed by Artúr Görgei (who, prompted by the Hungarian Revolution, changed his name from the original Görgey to the former spelling, which was deemed more natural at the time as far as Hungarian spelling was concerned), started to besiege the Castle of Buda. On the 4th May, he declared to those defending the Buda Castle that the Hungarian troops would not attack from the direction of Pest. However, he threatened that if the town of Pest was to undergo a cannon attack from the Castle, the Castle would be razed to the ground.
He wrote the following: "If you are thinking about connecting the defence of the so-called Buda Castle to the last man with the destruction of the Chain Bridge or a cannon attack on the town of Pest, from which direction – according to out agreement – you cannot expect an enemy attack, and which deed, in this light, would be nothing but mean and despicable, then you can take my word that after the future capture of the Castle all people defending the fortress were to die by our swords."
Even if the Debrecen-born Major General Heinrich Hentzi von Arthurm was clearly aware that the town of Pest held no military targets, he kept the town under constant cannon attacks, thereby intimidating its civilian residents.
Due to the constant attacks, a great number of buildings were destroyed in Pest by the middle of May 1849 including Redoute. As Redoute was the building to house the first representative parliamentary session from 5th July 1848, and because this building not only hosted Lajos Kossuth's speech requesting the setting up of an independent Hungarian army but also witnessed the Hungarian nobility's consent to this act, Redoute had by that time become a symbol of Hungarian freedom. For this reason, the cannon fire on Redoute cannot be considered accidental.
Source: Metropolitan Ervin Szabó Library, Budapest