Mosaics from Pesti Vigadó's History
Ninety years ago, an international chess tournament was organised in Budapest in 1929: the tournament was dedicated to the memory of the first Hungarian grand master of chess József Szén, who was a former archivist in the Municipal Archives of the town of Pest.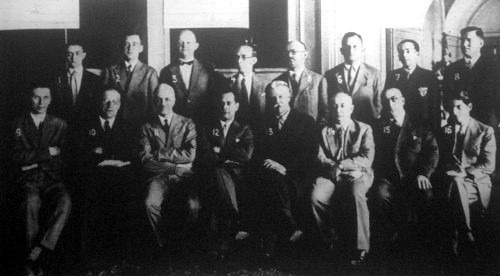 Participants of the International Chess Tournament of Budapest (1929)
Source: www.huszadikszazad.hu
Pesti Vigadó's Southern Hall served as the venue of this event, which was opened by Deputy Mayor Jenő Berezeli. In fact, 33 years earlier another chess event was likewise hosted by the same hall: in 1896 the International Millennium Chess Tournament of Hungary was also organised in Pesti Vigadó's Southern Hall. Therefore, the participants of both international championships took delight in the same interior and enjoyed the same ambience. 123 years ago, the end of the round-robin tournament in 1896 saw a draw between the already world famous Russian Mikhail Chigorin and the young Hungarian Rezső Charousek, but the play-off brought victory to the former player, who was awarded with a prize of 2,500 Hungarian crowns.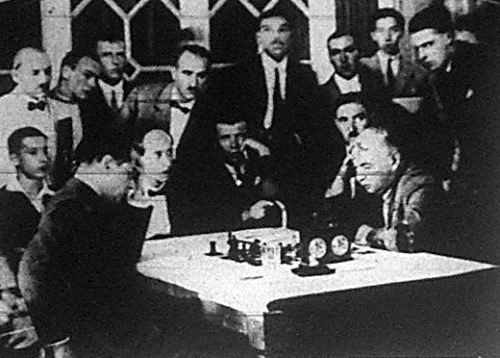 Capablanka-Przepiorka
Source: www.huszadikszazad.hu
The 1929 championship did not bring so much excitement in terms of the winner: all contemporary accounts agreed that the Cuban "Capablanca's superiority was not at risk for a single minute" and, thanks to this, "during the last three days no win was necessary for him to finish first. And he did not hesitate long to allow his games to end in a draw." After the world champion grand master of the period of 1921–1927, the Polish Rubinstein ranked second, while dr. Tartakower, then a resident of France, who formerly served in the Austro-Hungarian Monarchy's army, took the third place. Concerning the Polish Rubinstein, the contemporary journalist of the daily paper Budapesti Hírlap wrote the following: "after his moves he usually gets up, finds the most abandoned corner and buries his face in his palms. He closes his eyes and keeps thinking without looking anywhere. In the meantime, he keeps swaying back and forth and from side to side, and he must be warned by good-willed viewers when it is his turn again by telling him: 'please, make a move!' " The latter chess player had (at least) two roles to assume at the chess event: he acted as correspondent for numerous daily papers and thus took careful notes of the other games around him, which literally diverted his attention even from his own games of chess. Thanks to numerous books of his on chess, Tartakower also became noted as one of the most outstanding experts and figures of chess, who may have drawn inspiration, data and ideas to write his books based on the notes he took of his enemies' moves.
Cover photo: Participants of the International Chess Tournament of Budapest (1896) / Photo by Ferenc Kózmata / Source: dka.oszk.hu