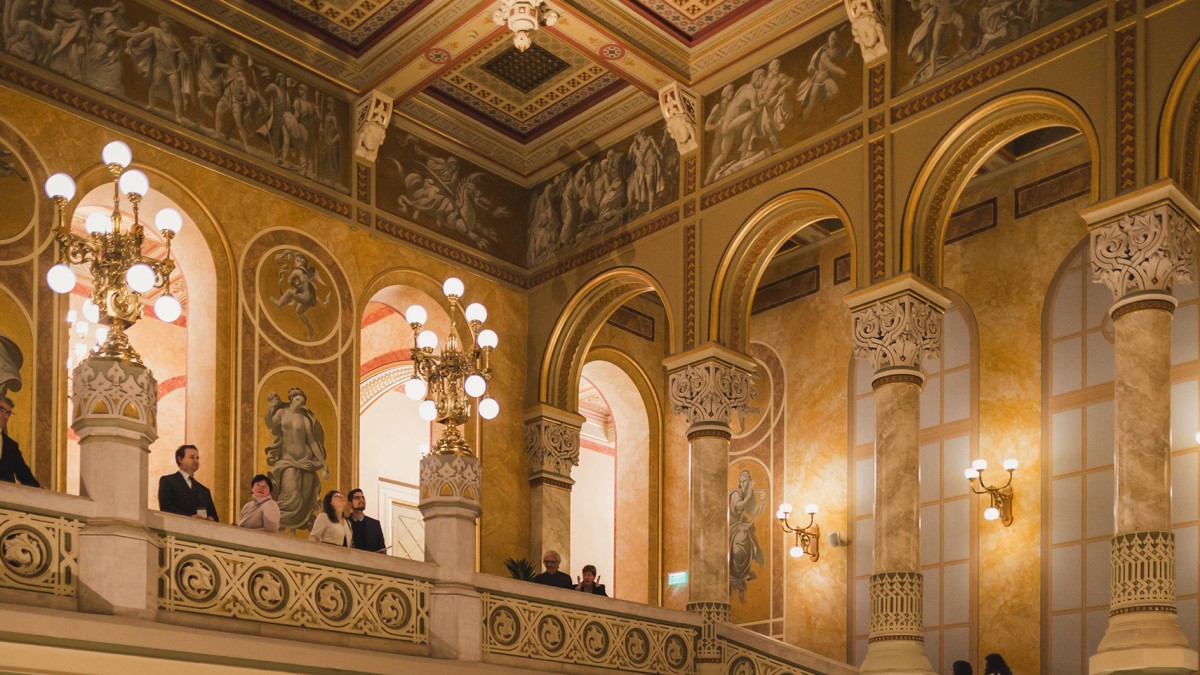 Information for Pesti Vigadó's Visitors
Dear Visitors! For your own and others' health, please observe the following regulations before paying Pesti Vigadó a visit.
Events that can be attended at Pesti Vigadó with a pre-purchased ticket or with prior registration can be attended without an immunity certificate or an EU vaccination certificate.
According to the current regulations, individual visits to the Pesti Vigadó building and participation in guided walks inside the building are only possible with an immunity certificate, EU vaccination certificate or a digital vaccination certificate, which is checked by Pesti Vigadó staff at the entrance.
Persons under the age of 18 who do not have an immunity certificate, EU vaccination certificate or a digital vaccination certificate may visit the building accompanied by a person holding an immunity certificate, EU vaccination certificate or digital vaccination certificate.
Entry to the building is also permitted upon the presentation of foreign Coronavirus immunity certificates recognised by the Hungarian State based on bilateral agreements concluded between Hungary and the other state concerned. Further information about the states involved and samples of Coronavirus immunity certificates recognised by the Hungarian State is posted and continuously updated on the following website: kormany.hu.
After entering the building, you are required to apply hand disinfectant.
When visiting the building, please use a mask or scarf that covers your mouth and nose. During opening hours masks are available for purchase at Pesti Vigadó's Ticket Office.
When purchasing tickets at the Ticket Office, only one person per group or family is invited to stand in the queue. Please, use contactless payment methods if possible.
At the Ticket Office, a plexi wall partition has been installed to guarantee the safety of both customers and staff.
When inside the building, make sure to observe the social distancing of 1.5 metres. Also kindly note that from different households a maximum of 4 people are allowed to be concurrently present in the lifts.
Concerning every exhibition hall, the number of concurrent visitors has been determined. This number is displayed at the entrance to each hall. Please, observe restrictions concerning the maximum number of concurrent visitors.
The signing of autographs, congratulating the performers, and the taking of joint photos or personal encounters between the audience and the performers in general are not allowed.
You are kindly requested to read Pesti Vigadó's updated House Rules, which have been adjusted to the current pandemic situation.
As earlier, special attention continues to be paid to the regular disinfection of visitor-accessible spaces, toilets, lifts and stairs.
All staff entering visitor-accessible spaces is still required to wear masks.
Please, be informed that, due to Pesti Vigadó's new entry protocol, programmes and performances may actually start later than their originally planned starting time.
The above rules have been introduced to protect our visitors' and staff's health and safety. Pesti Vigadó sincerely trusts that you will be supportive and cooperative in closely observing the above rules. Your patience, understanding and flexibility are greatly appreciated.
When wishing to pay Pesti Vigadó a group visit, you are kindly asked to contact us by e-mail at turizmus@vigado.hu if you are planning to do a historic walk tour; while in the case of intending to visit Pesti Vigadó's exhibitions with groups, please write to us at galeria@vigado.hu.
Each time before paying a visit, your are advised you to check out Pesti Vigadó's opening hours and daily measures of special floor and partial building closures by clicking on the following link: Information for Visitors / Opening Hours.