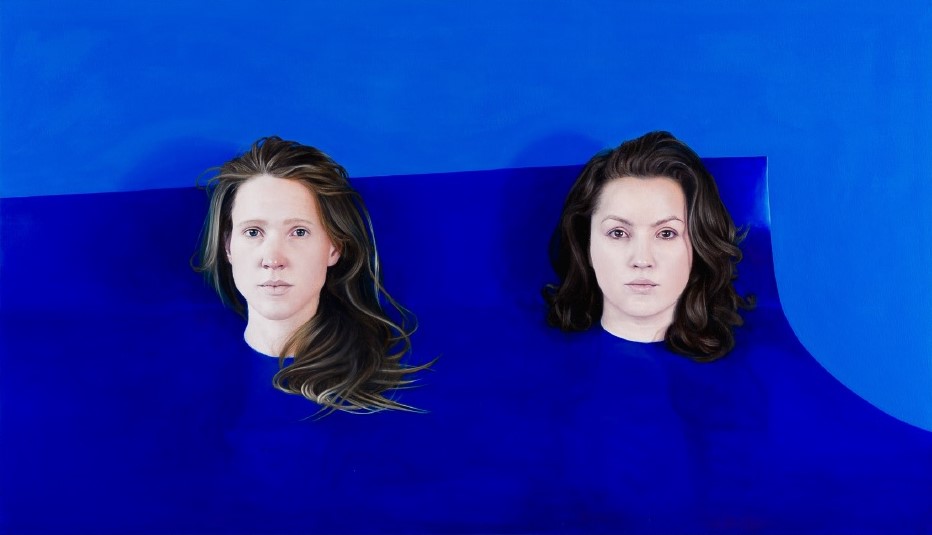 Patrícia Jagicza: Doppelgänger (oil, canvas, 2019)
Work of Art in Focus - November 2020
When in 2018 Patrícia Jagicza won the Hungarian Academy of Arts' Young Artists' Scholarship, she was in the throes of preparing for a joint exhibition with fine artist Patrícia Kaliczka. This exhibition, currently on show in Pesti Vigadó, features several of the artworks the two artists were preparing at that time. In addition to the 2018 exhibition, these works of art have since been showcased at several exhibitions and have been included in numerous series of artworks. These creations are truly exceptional because they feature the portraits of both artists. The above-mentioned joint exhibition was showcased in the Budapest-based Studio Gallery in 2019 under the title Ritual Trail to Self.
Patrícia Jagicza was born in Budapest in 1986, majored in painting at the Hungarian University of Fine Arts and graduated from that institution in 2011. Since 2009, Patrícia Jagicza has received numerous scholarships (e.g. Hungarian Government Scholarship Programme, Ludwig Foundation Scholarship, Derkovits Gyula Fine Arts Scholarship) and awards (KOGART Award, MANK Award, etc.). She has also had the opportunity to stage a handful of solo exhibitions including shows at Gallery Art9, Alföldi Gallery and KOGART Gallery. Her artworks have been shown at over 40 joint exhibitions both in Hungary and abroad.
Featured by Pesti Vigadó in the month of November, Patrícia Jagicza's creation entitled Doppelgänger (in English translation: lookalike) prepared in 2019, connects to the series of self-portraits jointly developed by Patrícia Kaliczka. Patrícia Jagicza approaches portrait and nude depiction from the perspective of the traditions of figural painting. Self-expression and self-reflection assume a prominent role in her works. An emphatic and inescapable theme in her art is constituted by female depiction and the lived experience of womanhood. The artwork showing a joint portrait of Patrícia Jagicza and Patrícia Kaliczka features a monochrome and homogeneous background, and highlights Yves Klein blue as a protagonist. Yves Klein was an acknowledged sculptor and painter in the middle of the 20th century and his name is associated with developing a characteristic blue colour currently known as International Klein Blue. This special hue, which originally contained ultramarine, became known as IKB, and was used by the French artist as his trademark.
The painting by Patrícia Jagicza depicts two decapitated female figures that "levitate" without their bodies across the artwork and are shown to be situated at the same height. The reason for this arrangement is also stressed by the artist herself, who claims that the composition is to show that the two female figures are in an equal relationship with no super- or subordination between them, which was in fact deemed one of the artistic goals behind preparing the painting. Dominance is interestingly featured in this image in a way that it is directed at the very beholder of the painting.