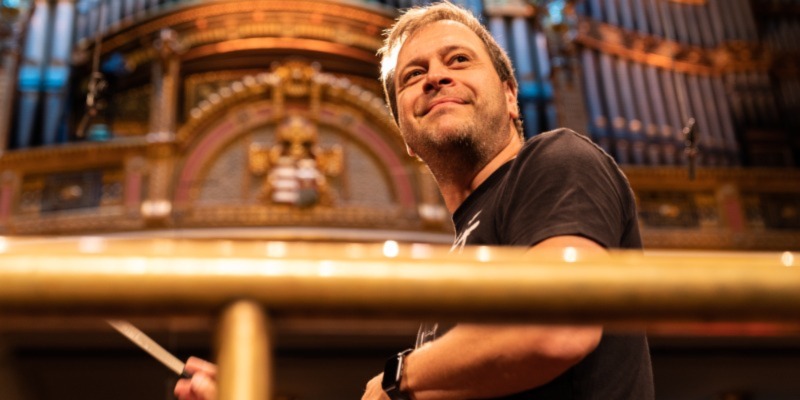 "Our Ensemble is extremely many-sided and it is my firm intention to retain this diversity"
Pesti Vigadó interviewed Honvéd Ensemble Male Choir's chorus master Richárd Riederauer about the structure and longer-term goals of the Ensemble, the style of music they perform, songs for male choirs, and the Ensemble's Season Ticket Series staged in Pesti Vigadó.
Interview by Marta Zsuzsa Nagy
"Voice, heart, power" – this is Honvéd Ensemble Male Choir's slogan. Why have you chosen these three words for your slogan?
Honvéd Ensemble Male Choir exhibits a very powerful character, which includes the sound and the timbre of the Choir, its sensitivity, everything that the Choir wishes to communicate, and its human character. So this very powerful character does not refer only to the professional work of the Ensemble. "Voice, heart, power." These three words are capable of expressing everything that we are. The word "voice" refers to both the quality of the sound as well as its tone and powerfulness. But the word "power" is suggestive of the powerful sound a male choir will make. Our 45-person choir has the capacity to sing in a very powerful manner. This is something like a group singing powerful forte, which causes the windows to resonate. The human heart exhibits huge depth and highs, and a choir is able to present all this with exceptional emotional richness. This is what the word "heart" in our slogan refers to. In addition, a male choir is also capable of providing its audience with very rich emotional experience.
Richárd Riederauer, photo: Honvéd Ensemble Male Choir's
Judging by its name, Honvéd Ensemble Male Choir appears to be a choir of soldiers but in reality the choir is composed of professional singers. Can you tell us about the past of the Ensemble? Where did the name "Honvéd Ensemble Male Choir" come from?
Those who do not know our Ensemble believe that we are a soldiers' choir, which is a fairly reasonable supposition. Obviously, the name of the Ensemble is quite misleading in that sense, and we definitely need to communicate that, contrary to out name, we are not a soldiers' choir. Honvéd Ensemble was established in 1949 after World War II, and at that time the choir was called Hungarian People's Army Professional Art Ensemble. The latter Ensemble was composed of a dance ensemble and a choir ensemble, both of which were composed of soldiers as these ensembles were established within the framework of the Hungarian People's Army. In those years during the Communist regime, the Ensemble recruited men with good singing voices and of military ranks. This way a professional choir composed of a large number of soldiers was established then. At that time, vocal quality was much more important than music education for successful admission to the Ensemble. Then the change of regime came, and the Ensemble, including the male choir, also started to operate outside the military: in civilian life. Today there are civilian professional singers in this Ensemble just like in the Hungarian National Choir or in the Hungarian National Radio's Choirs and Orchestra. The only difference is that our Ensemble is an only-male choir and not a mixed choir. The Ensemble has retained the name "Honvéd Ensemble Male Choir" as a well-functioning brand name thereby recognising and paying tribute to the choir's past.
You joined Honvéd Ensemble Male Choir in 2001 as a chorus singer and later on you became a section leader. From November 2009, you were the chorus master of the Ensemble. Since 2020 you have been the Chief Conductor of Honvéd Ensemble Male Choir. What are the greatest challenges you in your capacity as the head of the Ensemble have to face?
What I perceived as a great change in my activities was that in this position I am to concentrate on things other than issues directly related to music. My job is no longer about attending rehearsals, keeping the Ensemble together, preparing them for a performance and then actually staging the production. Now I have very complicated management, organisational and preliminary organisational duties to complete. I am responsible for compiling the Ensemble's programme for the next year, which entails the preparation of both a programme plan and an accompanying budget. And this part of my job is not related exclusively to art.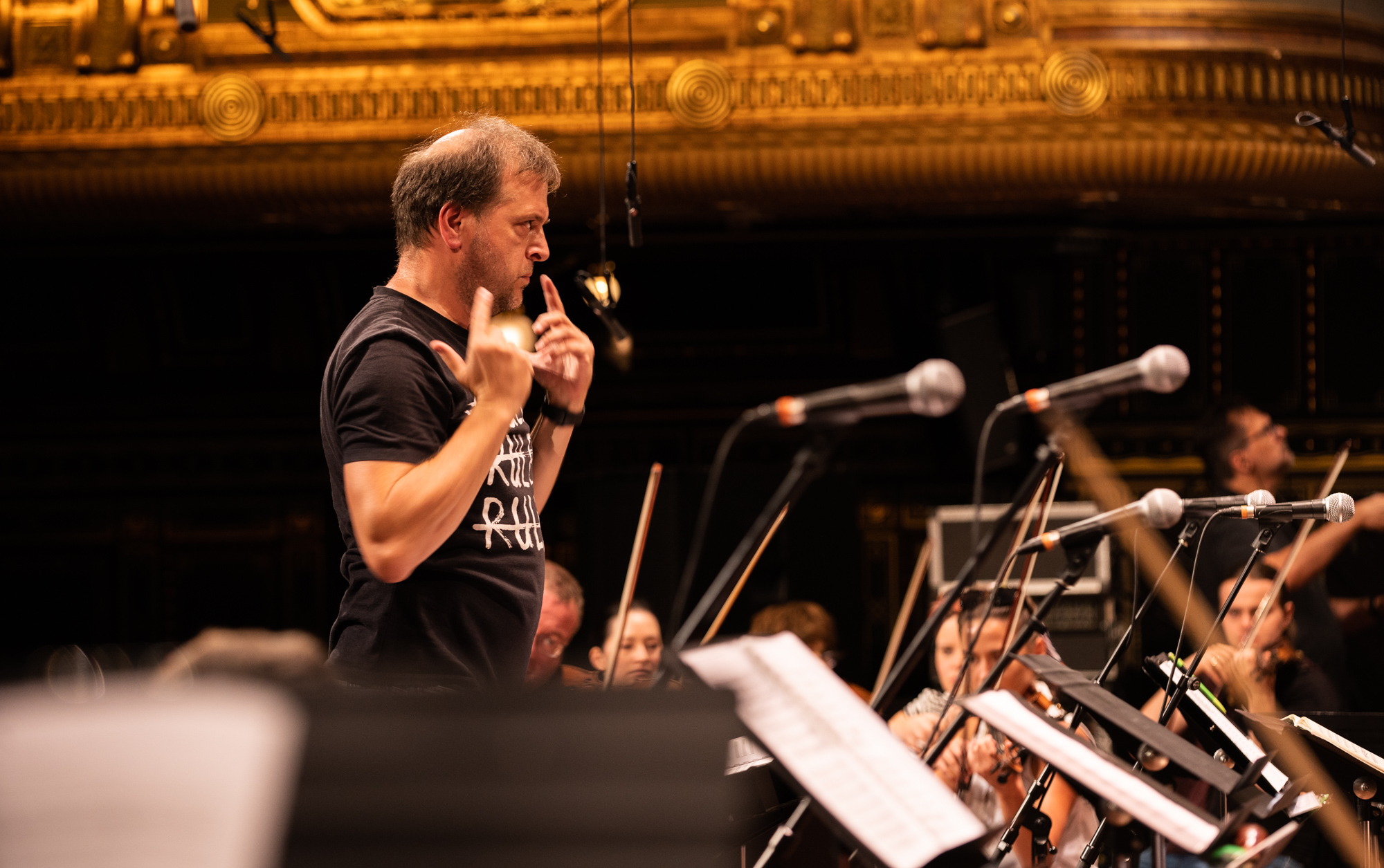 Richárd Riederauer is in practise, photo: Honvéd Ensemble Male Choir's
What sections is Honvéd Ensemble Male Choir composed of and how do you organise rehearsals?
The actual parts Honvéd Ensemble Male Choir works with are dependent upon its current programme and the actual pieces the Ensemble performs: the way these are composed influence the parts we have in the Choir. The starting point is very similar to that in the case of a mixed choir, where there is soprano, alto, tenor and bass parts. It is wise to divide each choir into four parts, and the same is the practice in the case of a male choir. There are two tenor parts: one down and one up, they are called tenor primary and tenor secondary. In addition, there is a baritone part and a bass part. The Ensemble works with these four parts and this also means four organisational units. Each part has its own professional leader called section leader, who rehearses the new pieces with their section whenever a new musical piece is being rehearsed. These four parts constitute the starting points. But there are also compositions which necessitate there is more than four parts, and there are also other pieces where three parts will do. In the mornings we have three or four hour long rehearsals with some pauses, but there are periods when we are even busier and we have to organise even more rehearsals. Anyway, all members of the Ensemble are employed full-time.
How disciplined are members of the Ensemble during rehearsals? Do they sometimes wonder off during these rehearsals?
If one works with a huge group, then this unavoidably happens. In my understanding, it is very important that a workplace should have a good atmosphere and that co-workers should have friendly relationships. If this is so, then it is easy to do a very good job. But it also means that in that case discipline is also slightly looser. One has to balance between these two endpoints. If I, say, walk into the rehearsal room and see that the group is "falling apart" or there is some excited background noise already and it is more difficult for the members to focus, then I am trying to be patient and rather than disciplining people I try to use a well-structured, well-designed and quick-paced rehearsal technique, which makes my job much-much simpler and this way it is easier to keep the members together and focused. As I see it, a lot depends on the chief conductor and the other leaders in general.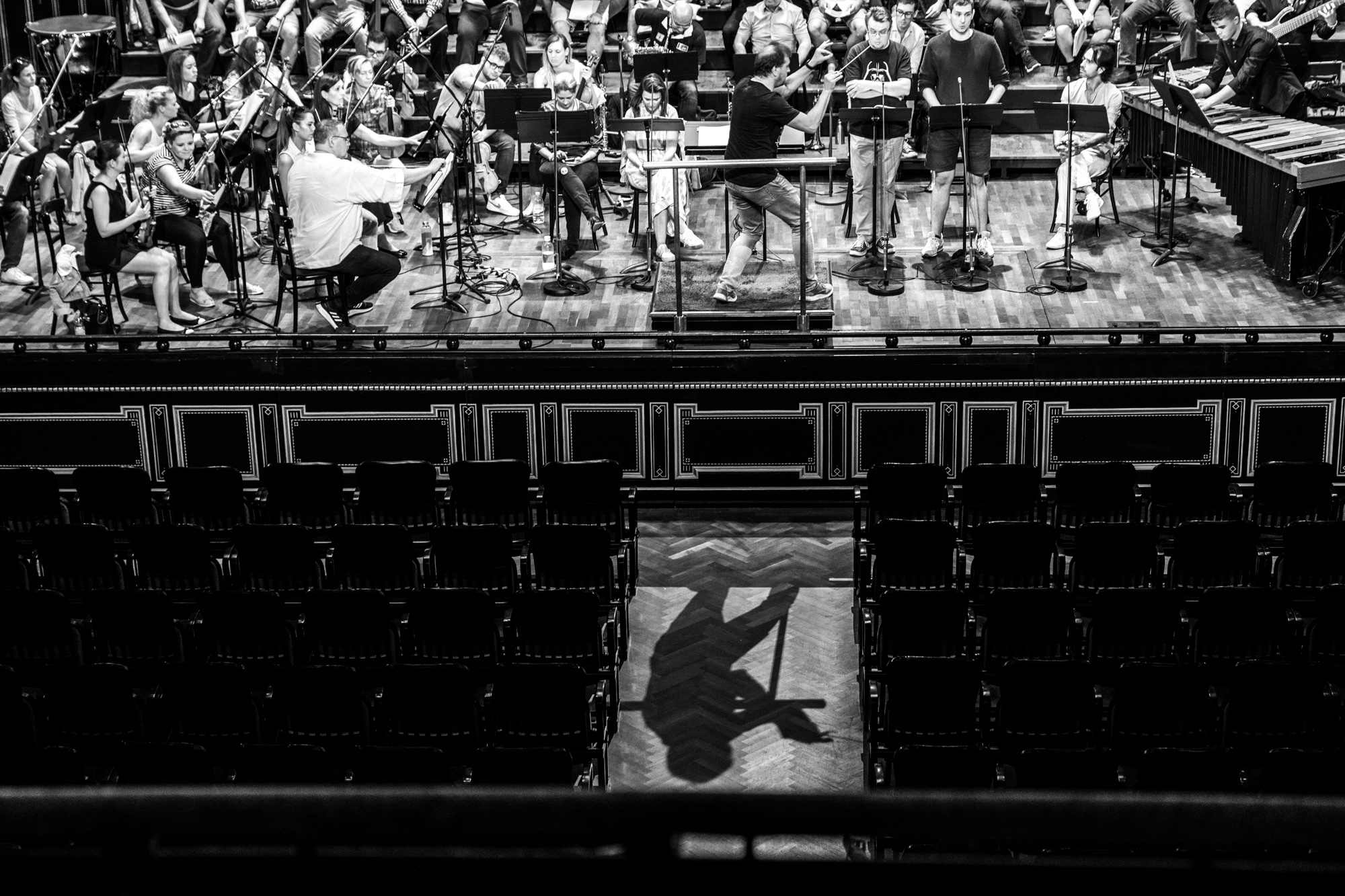 Richárd Riederauer and Honvéd Ensemble Male Choir's are in practise, photo: Honvéd Ensemble Male Choir's
What pieces characterise the style of the Ensemble and its repertoire?
This question is very intriguing because the fact that we are a male choir creates an interesting and special situation. This certainly means that we select pieces composed primarily for male choirs. The range of works is very diverse here: we can select pieces from all musical ages. For example, choral works of the Eastern Orthodox Church a cover vast and beautiful range of works for male choirs. These pieces exhibit enormous depths. However, it is not at all easy to find real low bass singers in Hungary. This situation also puts our Ensemble at a disadvantage, to be honest. Also, there is the age of German Romanticism with its plentiful works for male choirs but the Renaissance also offers numerous pieces. Also, the Ensemble sometimes makes detours in the world of pop music. We likewise sing all kinds of adaptations, and we also stage male-choir harmonisations of pieces originally composed for mixed choirs. Our Ensemble is extremely many-sided and it is my firm intention to retain this diversity, and to find the Ensemble's place in all musical genres and styles.

The Ensemble celebrated the 70th anniversary of its foundation in 2019. During these 70 years the Ensemble gave concerts worldwide, represented Hungary at numerous events and worked with a number of recognised artists. So far which of these have been the most memorable foreign performances and collaborations in the life of the Ensemble?
The Ensemble has been fortunate enough to have been able to work together with Zubin Mehta and the Israel Philharmonic on staging Beethoven's Symphony No. 9 and his opera entitled Fidelio. So far, this was one of the most outstanding professional highlights of my life. We performed in China in 2007, where our performances were very well received and were quite memorable. I hope that in the future we will be able to open up more extensively to the entire world and this is also one of my definite intentions. I am convinced that the Ensemble is a special Hungarian hungaricum as there are not so many professional male choirs in the world. The fact that these 45 persons are not part of a mixed choir but constantly work together in a male choir means a distinct vocal load for the individual and requires a special kind of vocal training. A steady male choir's vocal sound is not identical with the vocal quality produced by a mixed choir's parts for males.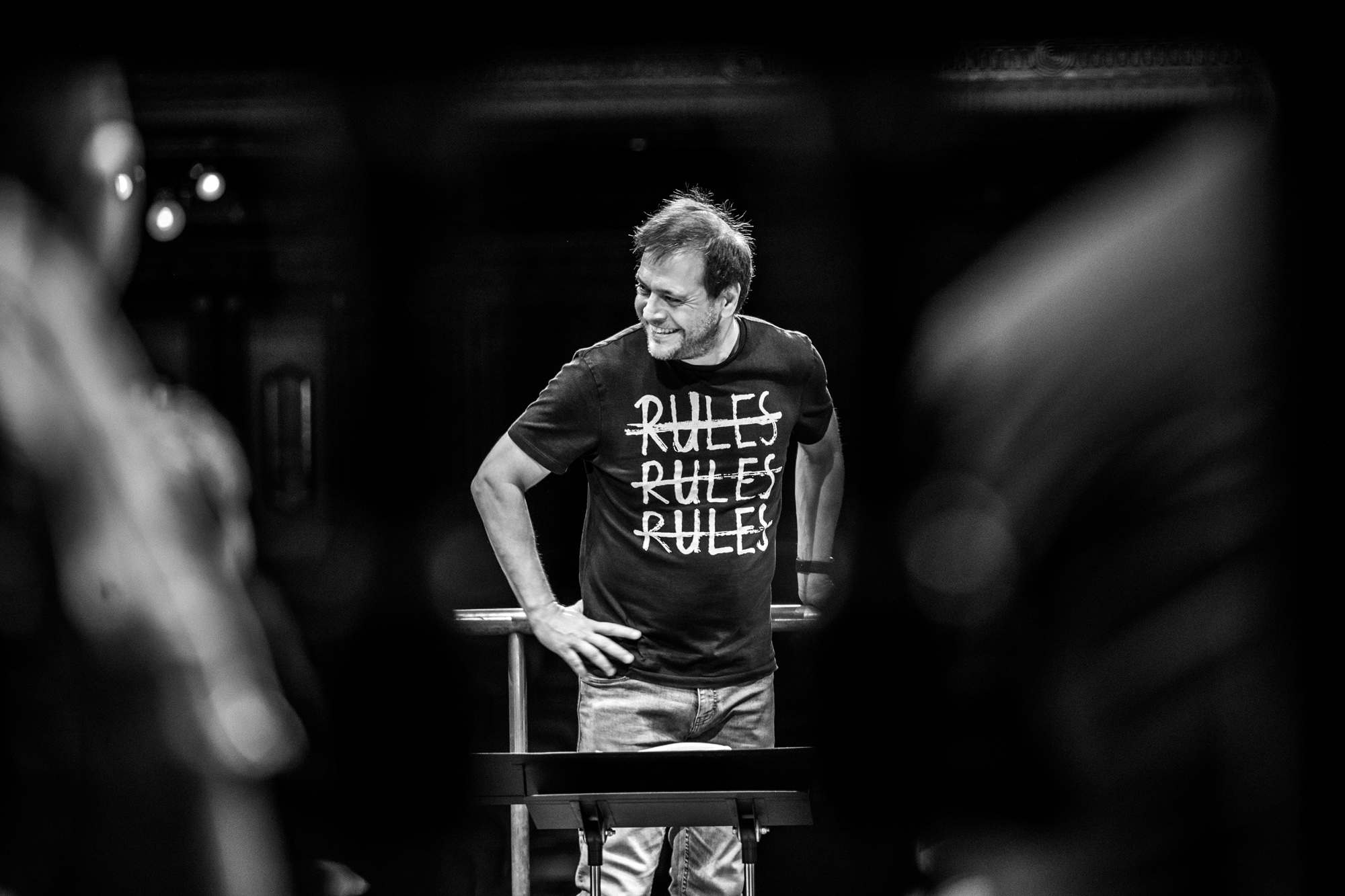 Richárd Riederauer is in practise, photo: Honvéd Ensemble Male Choir's
Pesti Vigadó regularly stages events by Honvéd Ensemble Male Choir. The Ensemble performs two events in 2022: one on 4th February and another one 22nd March. What pieces are you going to perform?
A season ticket series is organised every year. This is the first year that Pesti Vigadó is hosting these events. I am very grateful that the Ensemble is playing on this beautiful premise and in this wonderful environment. It will be very exciting to sing in a hall with such sonorous acoustics. I have very high expectations concerning this show. Our March concert entitled Romantikus Óriások [Great Masters of Romanticism] features classical pieces: the Ensemble will perform texts by German literary figure Goethe accompanied by Brahms' music. In the accompaniment of a symphonic orchestra, the Ensemble will perform two highly-qualified pieces: a cantata for male choir and Brahms' beautiful and ethereal Alto Rhapsody.
Once we are talking about musical pieces, it is worth mentioning that you are active not only as a chorus master and a chief conductor but also as a music composer. Since 2007 the general public can listen to your music in several pieces performed by Ballet Pécs. Can you tell us which of your compositions you like the best?
You are very well-informed indeed: that is right. I have been working with Ballet Pécs since 2007. There is two much-liked pieces I would like to mention at this point. The performance entitled Vasarely-etűdök [Vasarely Etudes] was staged less than a year ago. I am very fond of this work as I feel Vasarely is close to my heart, and his artworks have been cherished by me since my childhood. The other composition is entitled A Jó és a Rossz kertjében [The Garden of the Good and the Evil]: it discusses the theme of the seven deadly sins. I composed seven movements for the seven sins, which posed a very interesting challenge to me.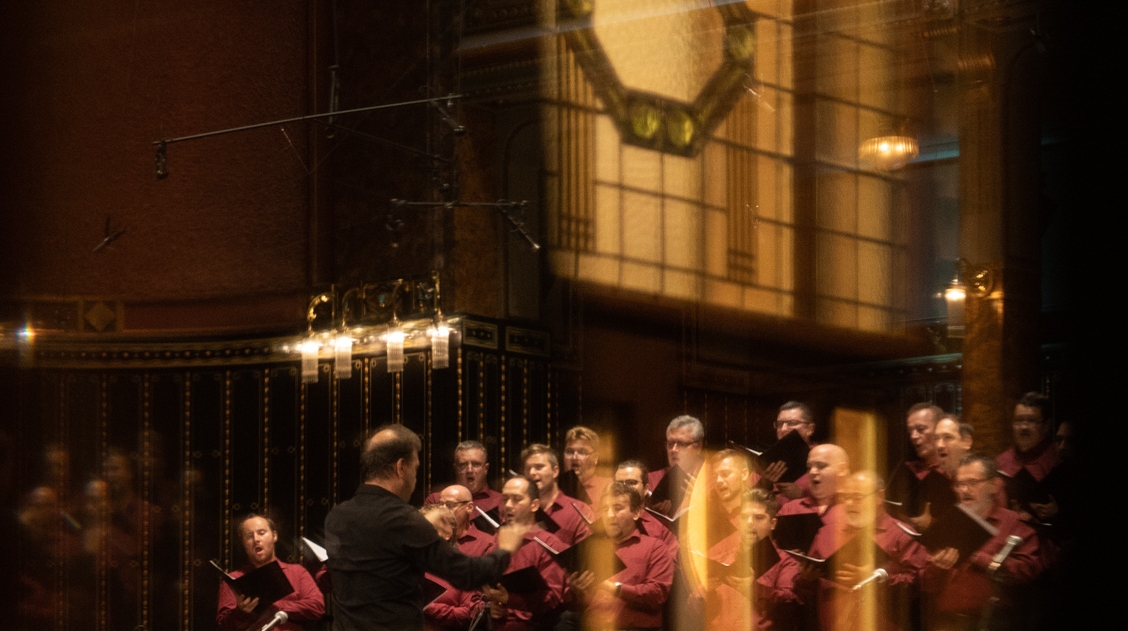 During the performance, photo: Honvéd Ensemble Male Choir's
Honvéd Ensemble Male Choir has been awarded Prima Primissima Award, Bartók-Pásztory Award, Hungarian Heritage Award and has also been acknowledged by the prestigious Academie Charles Cros Grand Prix du Disque award. What further goals does the Ensemble have in the near and distant future?
Awards are important as they provide feedback, and it is wonderful that the Ensemble has been recognised by so concrete and tangible acknowledgements. My short and long term goal is that the Ensemble should not lose from the impetus that has characterised it for several decades and that we should even try to boost our efforts. The world has become less accessible by now. And I do not mean only the COVID-19 pandemic here, but I rather feel that during the past 20 years the Ensemble has been partly working for its own sake and to its own advantage. I would be glad to see the Ensemble assume a more marked role in the life of Hungary's classical music scene. The Ensemble is planning to cooperate with the most highly-qualified Hungarian artists, musicians and bands, but at the same time we are also doing our best to find ways to foreign collaborations and performances. This latter goal is also worth considering and attaining especially given the choir's uniqueness. I believe that the Ensemble is now facing great revelations, otherwise it would be no use doing all this work. One thing is true and sure concerning Honvéd Ensemble Male Choir's shows: wherever we perform we always achieve tremendous success.