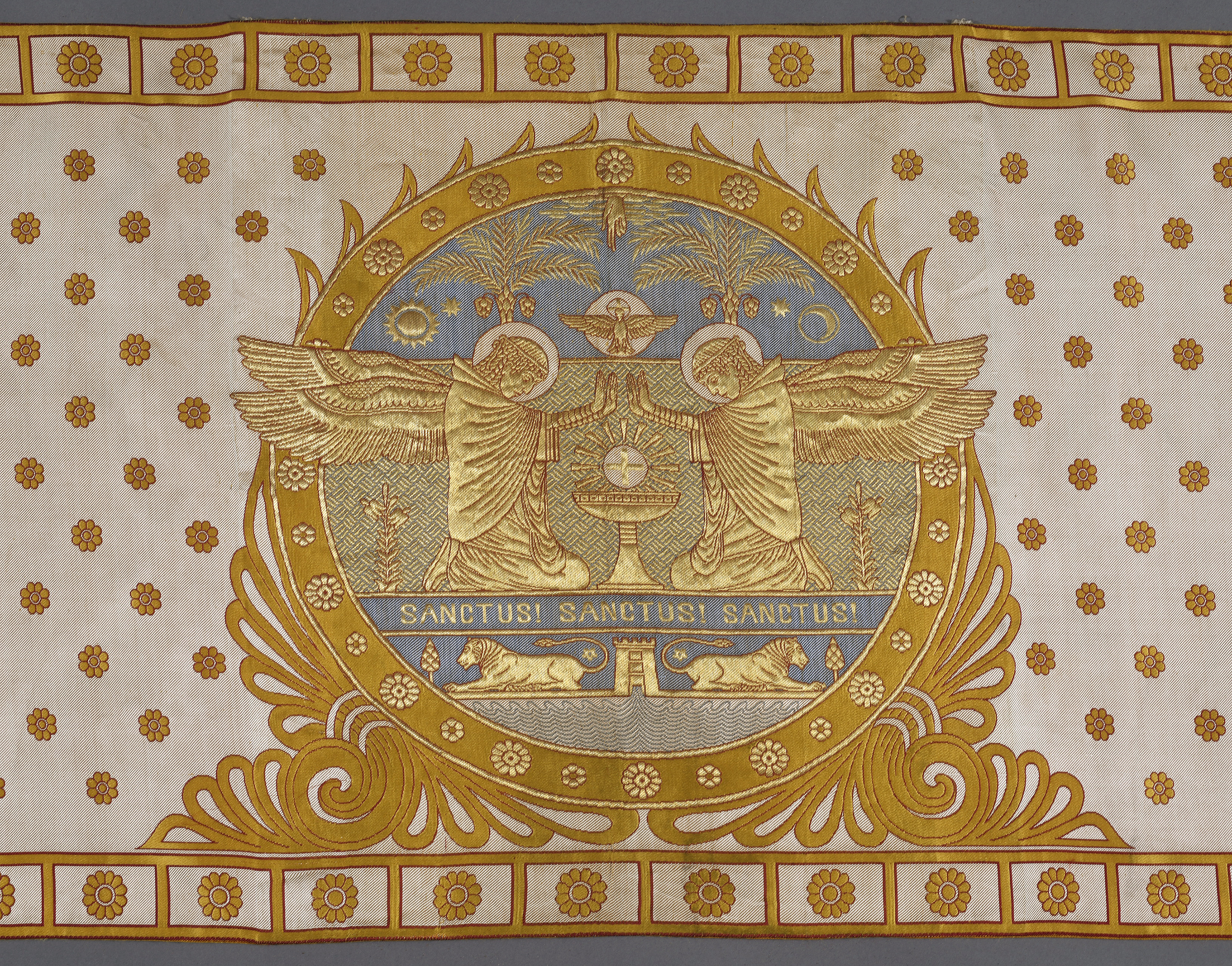 Exhibition
---
Location:
Vigadó Gallery - Exhibition Hall on the 6th Floor
Agnus Dei
The reverence of the Blessed Sacrament in Hungary
This exhibition is featured as a preparatory event leading up to the International Eucharistic Congress to be held in Budapest in 2020. Organised by the Esztergom (Hungary) based Christian Museum, this exhibition focuses on the liturgy and music of the Feast of Corpus Christi as well as on liturgical objects related to the celebration of the Eucharist and, among other things, features baldachins, monstrances, clerical cloaks and other devotional textiles. Liturgical goldsmith's works and textiles as well as books and scores on display at this showcasing originate from devotional collections held by thirty Hungarian Roman Catholic institutions, libraries, archives and parsonages, from Greek Catholic, Evangelical and Calvinist devotional collections as well as from local ethnographic collections from the Hungarian towns of Szombathely and Mezőkövesd.
A few special objects included among the exhibits embody the history of Adoration Societies in the 19th and 20th centuries, the history of several other associations devoted to ceaseless adoration, and the history of the Central Altar Society created in the 19th century. In addition and interestingly enough, one of the exhibits, an over 100-year-old large monstrance studded with precious stones is still in use today.
The showcasing also features cast-iron baking griddles for Communion bread making, objects used for storing the Eucharist and special-purpose monstrances for visiting the ill. Thanks to the above-mentioned local ethnographic collections, in addition to scores of liturgical songs, devotional goldsmith's works and textiles, on display are devotional folk objects encouraging and bolstering the reverence of the Blessed Sacrament outside the church walls. Moreover, films and photographs depicting the celebration of the Eucharist – and primarily the Corpus Christi Procession – offer insights into old traditions that have survived up to the present day. Spanning in time from the Middle Ages to the present, this exhibition displays a wide range of objects and customs associated with the rich cult of the Eucharist.
The exhibition is on view between October 30, 2019 and January 19, 2020.
***
GET YOUR ANNUAL EXHIBITION PASS! Providing access to Pesti Vigadó's exhibitions, this pass offers a wealth of unforgettable experience throughout the entire year! The pass allows its holder an unlimited number of entries not only to all of Pesti Vigadó's exhibitions currently open but also to all halls and spaces accessible to the general public in the historic building