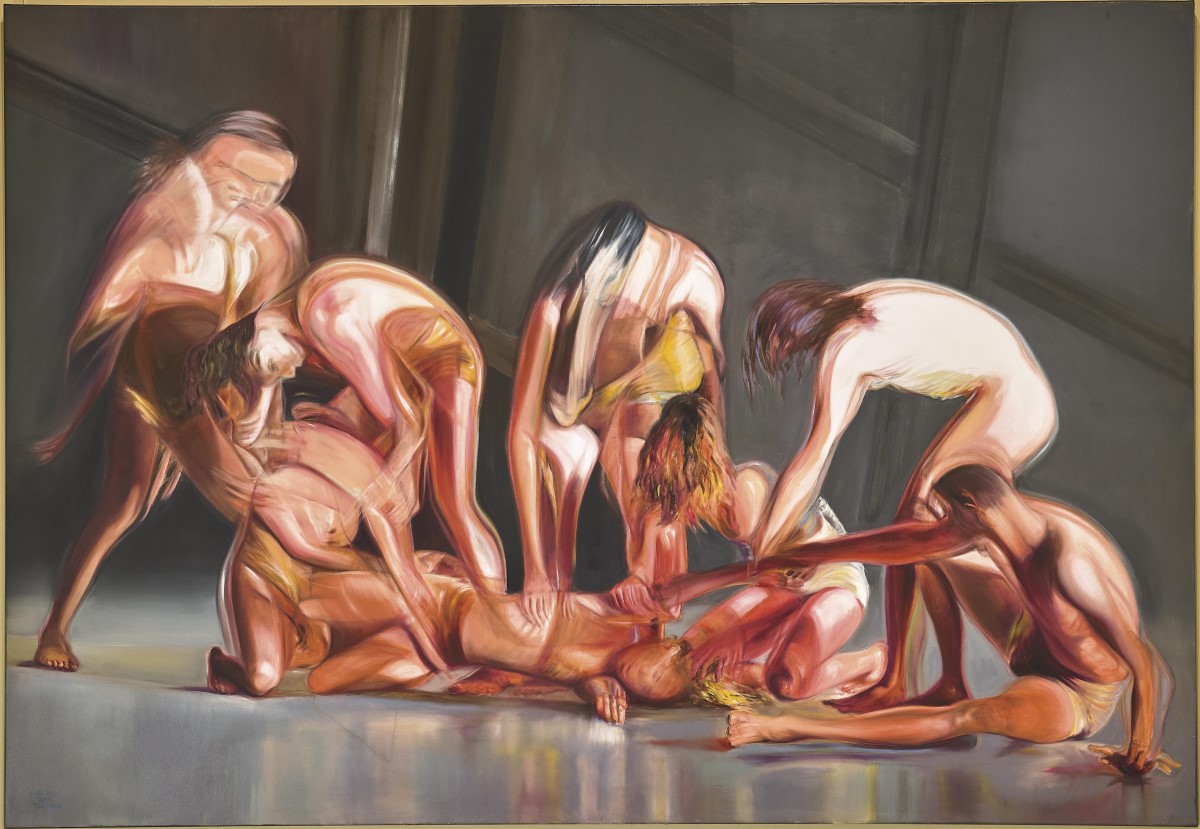 Eszter Csurka: The Treaty of Trianon (oil, canvas, 145x210)
This painting by Eszter Csurka entitled The Treaty of Trianon is one of her latest creations. The artwork addresses and shows Hungary's division following World War I through a personified depiction of the Kingdom of Hungary. The central figure is a tired and unconscious, almost lifeless Hungary portrayed as a woman lying. Around her stand similar figures are quarrelling with one another: each wants to get a piece of the country for themselves. The artwork, which features the artist's typical style, is showcased in commemoration of the 100th anniversary of the Treaty of Trianon at the exhibition Cannot Be Forgotten staged in Pesti Vigadó.
Munkácsy Mihály Award winning painter Eszter Csurka (1969-) is considered an artist of real gesamtkunstwerk by her fellow artists. She is known as a painter, sculptor and performer, but she is also active artistically as a photographer, stage designer, actress and stage director. This multifaceted character of hers has paved the way for her film-like artistic perspective, which exhibits both surrealistic motifs and diverse techniques. Featured in December as Pesti Vigadó's Work of Art in Focus, her painting entitled The Treaty of Trianon also builds on these unique and spectacular features.
Eszter Csurka studied photography and applied graphic arts at the Hungarian College of Fine Arts, and she specialised in stage design and film direction at the College of Theatre and Film Arts. She has been staging joint exhibitions since 1991 (at places like Budapest's Spirál and Petőfi Csarnok), and she opened her first solo exhibition in Szentendre (at Vajda LSG) in 1994. In the past 20 years, her artworks have been staged at the numerous exhibitions including ones showcased in Budapest at Várfok Gallery, Karinthy Salon, Capital Gallery and Ernst Museum. Back in 1998 Vigadó Gallery also featured her works in the scope of the exhibitions entitled Collage and Dream. In addition, works by the artist, who turns 51 this year, are found in the collections held by the Hungarian National Gallery, MODEM Center for Modern and Contemporary Art and Kiscell Museum, but Hungary's T-Mobile Collection and Strabag Collection also feature her artworks. Eszter Csurka is a regular exhibitor at Hungary's top fine arts events including the Szentendre based ArtCapital event series, where she has exhibited her works many times so far. In the scope of this event series in 2019, she staged a solo exhibition entitled Alpha, which emphatically focused on expanding the limits of fine art genres in a manner that is so characteristic of her approach. Stretching to five rooms, this place-specific installation was part of a unified composition complete with sound and spatial effects. The title of the exhibition referred to the alpha state: a relaxed mental period in the human wake-sleep cycle.) In recognition of her work, Eszter Csurka was elected to become a regular member of the Hungarian Academy of Arts in 2020.
This year marks the 100th anniversary of the signing of the Treaty of Trianon in 1920. As one of the treaties of the Peace Conference of Paris, the Treaty constitutes part of those political actions that aimed at setting the peace terms after World War I. In the "Great War", as it was called then, Hungary saw the end of the bloodshed on the losers' side and, as one of the successor states of the Austro-Hungarian Monarchy, Hungary signed the peace treaty with the Entente Powers in the Versailles-based Grand Trianon Palace on 4th June 1920. According to the Treaty, Hungary lost two thirds of her territory and over half of her population. Through this, the country's multiethnic character ceased to exist, which also meant the disintegration of Historical Hungary. In commemoration of this year's anniversary of the Treaty of Trianon, Pesti Vigadó has staged two exhibitions: the June opening of Marcell Jankovics' showcasing entitled Cannot Be Forgotten is now followed by this exhibition, which memorialises Hungary's 100-year-old national trauma through works of applied and fine arts.