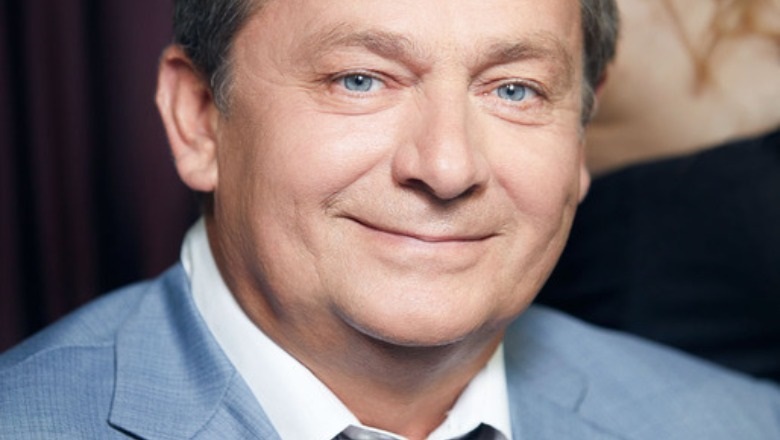 "...a big advantage is that we are a close-knit couple..."
On the occasion of the 8th November staging of the play Jövőre, veled, itt 2 [Next year, You and Me and Here No. 2] in Pesti Vigadó, Jászai Mari Award winning actor Zoltán Hegedűs was interviewed about the role of non-Budapest-based theatres, the period of his career he spent at József Katona Theatre of Kecskemét and the staging of the above new play.
Interview by Márta Zsuzsa Nagy.
You completed your secondary school studies at Debrecen Reformed College Boarding School. Your brother was Archdeacon and Deputy Bishop Béla Hegedűs. Having been brought up in a religious family of Reformed believers how did you come to choose a profession so free in spirit and so distant from the world of religion characterised by strict moral conduct and principles?
I was touched by the magic of the theatre already when I was a primary school pupil. At that time my family had a season ticket to József Katona Theatre of Kecskemét. The chief director then was József Ruszt, and he worked with so renowned actors as Miklós Gábor and Péter Andorai.
My teacher of Hungarian literature at the Debrecen Reformed College Boarding School was Mrs. Erika Mihályné Nagy, she encouraged me to take part in several poetry and prose recital competitions. As secondary school students we had the possibility of obtaining season tickets to the chamber theatre and to József Katona Theatre. I was highly intrigued by the world of the theatre, its ambience, and the emotional aspects of the performances had such a high impact on me that this experience ultimately influenced and determined the choice of my career. One day I saw a poster that advertised a theatre company for young people called Alföld Youth Theatre. I went to meet them and asked how I could join. This theatre group for children was managed by György Thuróczy, and the rehearsals took place from 6 pm to 10 pm on Wednesdays and Fridays. As there were strict rules at the Boarding School, I had to appeal to the director and request that I could come home late on those days. I very much got to like this theatre group and I was a member of it for 2 years.
After completing my secondary school studies, I applied for the College of Theatre and Film Arts but I was not admitted in the year when I applied first. Actor Ferenc Kállai was the head of the examination committee, and he advised me to continue working at the theatre for another year and apply again the next year. And so I did. As my hometown is Tiszakécske, I studied and worked at the Studio Theatre of the theatre in Kecskemét for a year, and then again I applied for the college: this time successfully. I was admitted to the class of Hungarian stage director Imre Kerényi and actor Péter Huszti. I also had many other great teachers including Géza Hegedűs, József Gáti, Ida Versényi, István Szabó, András Bálint, Magda Sőtér just to mention a few.
After completing your studies at the College of Theatre and Film Arts, you worked in Szeged, then in Győr and since 1997 you have been working at József Katona Theatre of Kecskemét. What prompted you to choose non-Budapest-based theatres?
In the last two year at the college József Ruszt was one of my teachers. When I graduated, he was invited to the join the theatre in Szeged and become its chief director. Then he invited 7 students from my year to work with him as the Szeged National Theatre was looking for young talents. I was among the seven students he invited, so I started my career in Szeged. A very good theatre group was formed. One of the main reasons I started working in non-Budapest-based theatres was that I was invited and it was very important for me that József Ruszt was inviting me personally as I liked working with him at the College.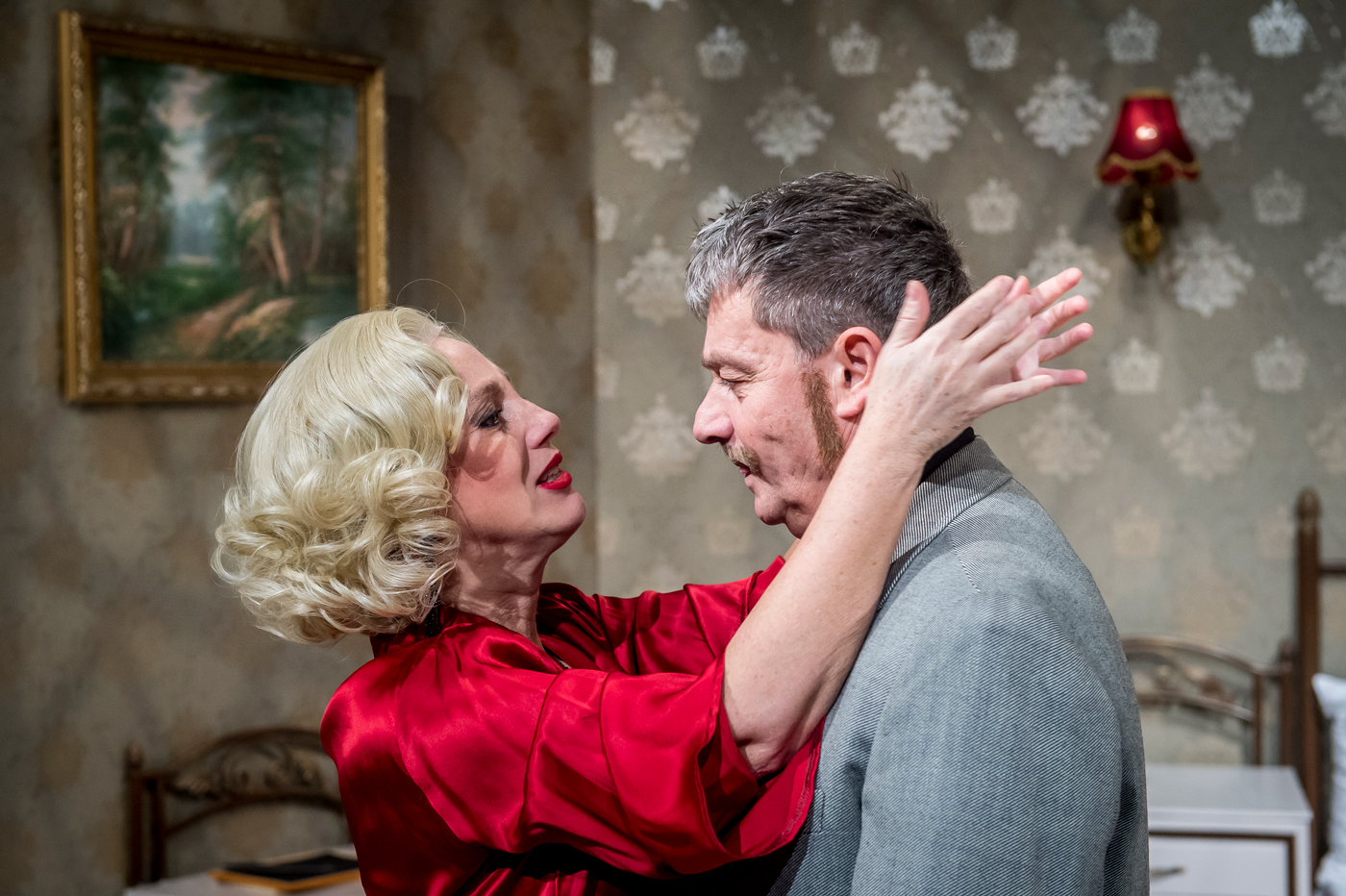 What do you think the role of non-Budapest-based theatres is? To what extent can those theatres that operate in Hungary's towns with county rights influence the theatrical and intellectual life of the whole county and what are the responsibilities of these theatres?
In my understanding, non-Budapest-based theatres should be active in the promotion and popularisation of the theatre as an art form, as they stage all types of performances due to the fact that they typically offer season tickets. While the capital Budapest sees 3 to 4 first nights during a single theatre season, our theatre stages not fewer than 13 plays in a season. And once all performances included in the season tickets have been performed, the show must be removed from the repertoire however successful it may have been, and another set of 13 performances are staged. These performances include almost all kinds of genres ranging from children's tales through musicals, comedies, dramas to operettas. Now that József Katona Theatre of Kecskemét is a national theatre, we also play operas and ballets. While a Budapest-based theatre can be a theatre for a special audience staging only music performances or cabarets, a non-Budapest-based theatre has to cater for numerous audiences tastes, and their audiences do not come from a single town but from an entire county or smaller region. In the case of József Katona Theatre of Kecskemét, season ticket holders come from Hungary's Pest, Csongrád and Szolnok Counties.
I am sure people in other areas of Hungary are also interested in plays staged by József Katona Theatre of Kecskemét. Do you have the opportunity to tour with the performances? Do you co-operate with other theatres either in Budapest or elsewhere?
The management of the Theatre is doing its best to ensure the Theatre is present at as many festivals as possible. This year we were present at events held in Fertőrákos, Szarvas and Szigliget. Budapest's Thália Theatre also organises a theatre festival each year, and József Katona Theatre of Kecskemét represents itself also at this festival whenever it can. At this year's closing night celebrations, director Péter Cseke told me and my wife Judit Danyi, who plays in the performance entitled Jövőre, veled, itt 2 just like me, that we were to represent József Katona Theatre of Kecskemét at the event series of Szarvas Water Theatre, as the originally planned play was impossible to stage at the event due to my colleague's illness. We were frightened a bit as our play is a studio performance and so far we only performed in front of audiences totalling maximum 60 people whereas the programmes of Szarvas Water Theatre will seat 1,200 persons. To our great pleasure, the audience received our performance so well that for this role my wife was conferred the award for the best female protagonist, which was bestowed upon her at the award conferral ceremony of the 11th Hungarian Teátrum Summer Theatre Festival.
During the 23 years you spent in József Katona Theatre of Kecskemét, which were the most decisive roles you played?
In fact, all of these roles constituted a task each and they posed different challenges. What presented me with a strange and unexpected situation was József Katona's play Bánk Bán. The character of the governor Bánk bán was difficult to play because I am not a hero type of person. One of my favourites was two-person plays, which I played with my wife. Let me just mention the plays Liselotte in May or A háború, hármasban [Three at War] and also Jövőre, veled, itt 2. Also, I played several other characters and I have very fond memories of these roles including the characters of György Dandin, Waiter Gyuri, Amphitryon, Hungarian pharmacological researcher Dr. József Béres, Churchill, etc. I played nearly 130 roles and I loved each and every one of them.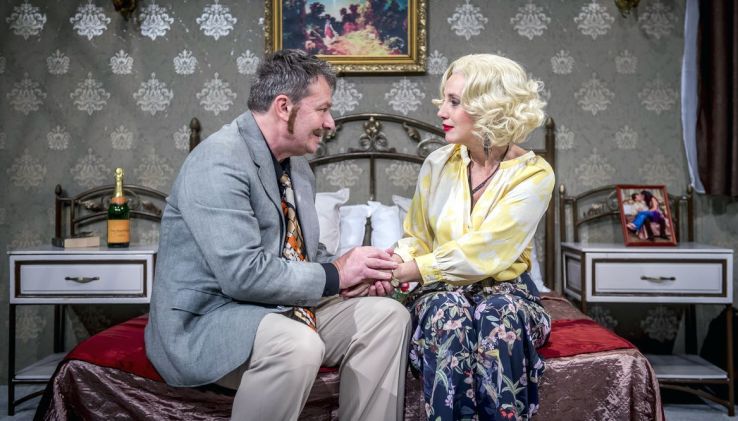 As part of the series entitled Words, Sets, Dramas featured by Pesti Vigadó on 8th November, the play Jövőre, veled, itt 2 directed by Béla Szerednyey will be staged. In this play your partner is going to be your wife Judit Danyi. It is funny that in the performance the two of you will play a couple in love. How much did these very roles of yours facilitate or hinder rehearsals?
In the case of plays of this kind, it is a great advantage that we are a well-working couple, which is also explained by our 26 years of marriage. As the Theatre stages so many premieres a year, there is very little time to prepare thoroughly. In the case of the play Jövőre, veled, itt 2 the rehearsals took a little less than 4 weeks with the original play being 80 pages long. When the script must be written, when rehearsals have to be carried out and when stage instructions must be internalised during such a short time, it is very important that the actor and actress have a very good working relationship with each other. There are some intimate scenes in the play in the case of which working with another colleague would be complicated and time-consuming. In that case, it is a great advantage that we are married and we know each other's movements and reactions, and if there is any problem, we can help each other.
What are your plans for the future? Apart from the play Jövőre, veled, itt 2, which performances will you appear in during the autumn season?
So far I will play in the following performances for certain in the current season: Georg Büchner's Leonce and Lena, Ray Cooney's One for the Pot, Agatha Christie's Spider's Web, Thorton Wilder's Our Town and Sándor Petőfi's The Tyger and the Hiena.