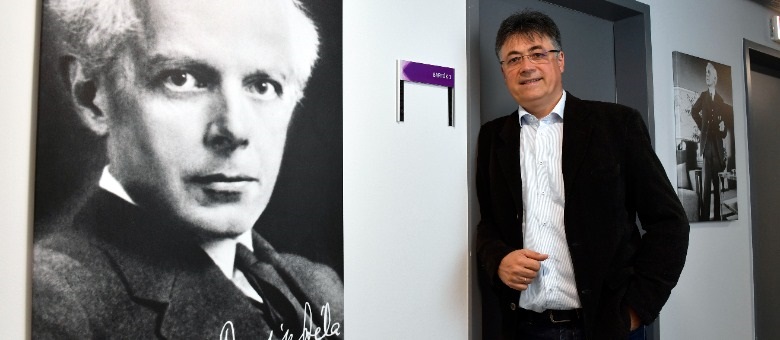 "We offer our audience unforgettable experiences, and deliver joy and hope…"
Pesti Vigadó interviewed Channel Director of Hungary's Public Radio Channel Bartók Rádio and Managing Director of the Hungarian Radio Art Groups Márton Devich about what future goals are ahead of the Groups and what past experiences and knowledge the Groups build on.
Interview by Niki Nyírő.
In your capacity as Channel Director of Hungary's Public Radio Channel Bartók Rádio you manage numerous music-related tasks on a daily basis. Have you ever considered yourself as one of today's influencers on classical music?
I have never thought about myself in this role. I rather regard my job as a service: a service dedicated to Hungarian musical life and to the classical music loving general public. I do not consider my personal opinion about any issue important. What matters is that we should produce as good quality radio programmes, concerts and music recordings as possible.
How fondly do younger generations listen to classical music?
I have high hopes about this, and I think that good music will captivate everybody. At the same time, it is very relevant in what way, in what quality and when these first encounters with the genre take place. In that respect Bartók Rádió's responsibility is enormous. And music professionals likewise have to strive to provide the opportunities for concert life to bloom and to become as rich and varied as possible. If someone is really touched by the beauty, depth and emotionality of classical music at one point in their lives, they will fall in love with classical music forever and will be happy to visit concerts and listen to Bartók Rádió. A university student has recently told me that in certain intellectual circles today it is quite "trendy" to listen to Bartók Rádió. Hopefully this will never change.
Most probably many people feel tempted to ask the following question when they review your career so far: Do you play any musical instrument?
Unfortunately not. I used to play the piano when I was a child and they say I had the talent but then I quitted playing it and chose to play soccer instead and studied at the Technical University. But I grew up in an environment surrounded by music. Everybody around me played music at a professional level: my mother, father and uncles. I married a pianist and two of our children also play a musical instrument.
What kind of plans were initiated or realised during the past year since you have been Managing Director of the Hungarian Radio Art Groups?
First of all, the finances of the Groups had to be secured, which was successful thanks to Hungary's Media Service Support and Asset Management Fund: the maintainer Fund this way assured us and the general public of supporting the development and promoting the successful future of the Orchestra and Choirs belonging to the Group. A certain kind of career model for musicians was developed, which also included a reasonable pay rise. A musical instrument purchase programme and a scholarship programme in the Choir were launched, and the Orchestra now offers a chamber music series. In addition, in commemoration of Hungarian poet János Pilinszky's anniversary, a music composers' competition was advertised. And even if there was a fully developed programme for the season when I took over as managing director, the COVID-19 epidemic changed everything. This means that in the last season we were mainly engaged in managing changes in our programmes and in performing epidemic protection related efforts. I am happy to say that colleagues' attitudes were exemplary: I felt that on the part of our musicians and vocalists it was an expression of artistic faith that they were willing and determined to perform in masks and without audiences. Actually, this year we are about to occupy our new premises: the Groups are moving to a new location and to new rehearsal rooms, and the preparation of all this has given us ample work to complete.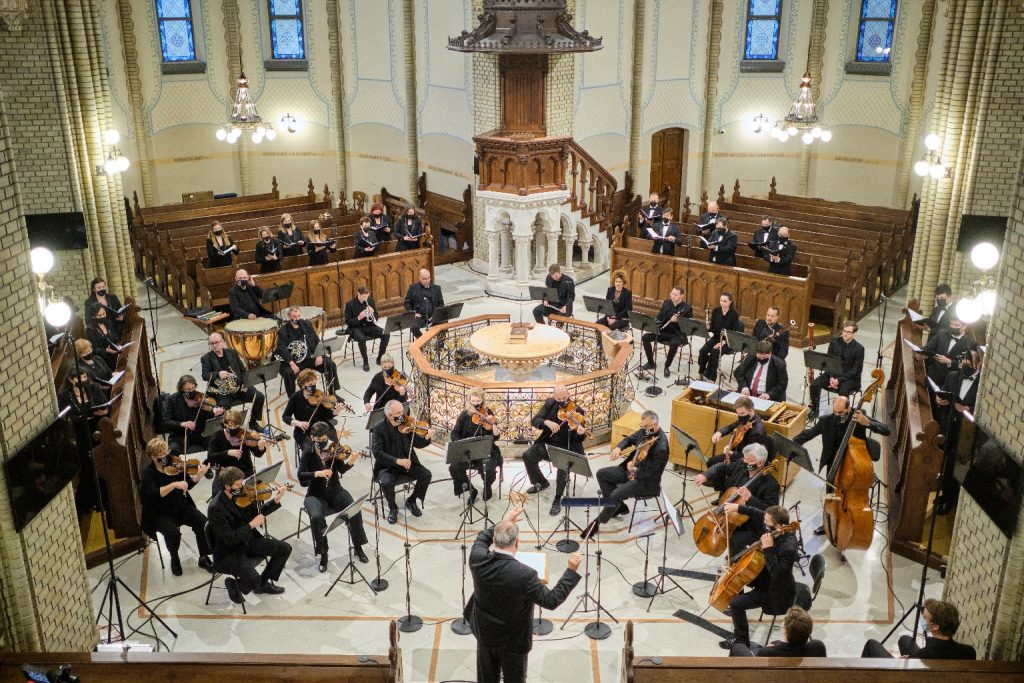 What challenges are ahead of an orchestra today? Of course, this question of mine refers to the Orchestra, the Choir and the Children's Choir as well.
We, meaning the Orchestra and the Choirs, have one single challenge ahead of us: this is what we have undertaken to complete as our mission. Our mission entails serving our communities and to offer our audience unforgettable experiences, and to deliver joy and hope, to support young artists and to strive to do so not only in concert halls but also though radio and television programmes. At the same time, we serve the cause of Hungarian music through our art: We prepare exemplary studio recordings and preserve the best contemporary musical pieces for future generations. All this contributes to our very important cultural mission.
Could you please tell us some secrets about the future of the Groups and your vision?
We have no secrets. We work hard and those who come to our concerts or listen to our recordings can hear the results of this hard work. At the same time, the world around us is changing. Certain programmes become more prestigious than before. For example, the experiences at live concerts are irreplaceable and incomparable to anything else, and the challenges of the online space also offer numerous opportunities. Demands by the audience also change and we need to adapt to these altered circumstances. I am convinced that the Groups are capable of accomplishing their spiritual and artistic renewal, which is also necessary in my understanding, and I believe that this process has already started. I feel the Groups are now surrounded by a very cheerful mood and a promising atmosphere. Also, we have wonderful artistic jobs ahead of us: for example the preparation of a "complete vocal edition" of Lajtha-Kodály's works or the preparation of the Brahms series by Tamás Vásáry. I am also very glad to see that Riccardo Frizza is going to come to conduct our Orchestra several times in the near future.
Pesti Vigadó's Ceremonial Hall hosted your celebration of the 70th anniversary of the foundation of the Choir of the Hungarian National Radio. Due to the pandemic situation, there was no audience at this event. What was it like to look back on this unbelievably long and wonderful period?
The heritage, tradition and artistic past developed, bequeathed and possessed by the Choir of the Hungarian National Radio is unmatched. Everybody who looks back at all this will show respect and artistic humility in acknowledgement of these achievements, and will likewise be touched by the results achieved. At the same time, Hungary as a country can be very proud of this Choir: and I mean not only Hungarian cultural life but also the entire nation. This Choir is a treasure that earns good reputation for Hungary worldwide.
At your previously-mentioned jubilee concert, Franz Liszt's Coronation Mass was performed, which was also staged in Pesti Vigadó on 26th April 1869. Why did you choose this very piece to feature at your convert?
Performing this piece means celebrating Hungarian music. Franz Liszt composed this Mass on the occasion of crowning King Franz Joseph I of Austria King of Hungary, and in fact the Hungarian nobility had to make special efforts to make the Viennese Court consent to the performance of this composition at the event. It is a well-known story that Franz Liszt was seated in the organ gallery at the crowning ceremony organised in Budapest's famous Matthias Church. After the ceremony ended, Franz Liszt soon left the spot and headed on foot to Pest from the Castle Hill. At the Chain Bridge, which is located close to the Castle Hill, the crowd was waiting for King Franz Joseph I to appear but as Franz Liszt arrived earlier than the King, he was greeted with wild applause, which also meant the celebration of Hungarian music.
I heard that you enjoy giving concerts in Pesti Vigadó. Could you tell us why you feel that way? What connects you with Pesti Vigadó?
Indeed, it is always a pleasure to perform in Pesti Vigadó. I have personally experienced quite many unforgettable concerts in Pesti Vigadó. I also heard great Hungarian pianist and music composer Zoltán Kocsis perform here. Also, featuring a lot of exciting contemporary music the event series entitled "Mini Festivals", founded by my uncle Zsolt Durkó, have always been held here. My son violoncellist Gergely Devich also had the opportunity to play solo in this newly refurbished building. In fact, the Groups are always glad to perform in Pesti Vigadó. It feels good to play music or to sing here: this beautiful building and historical walls are very inviting especially if one thinks of performances given in this building by Franz Liszt or Brahms. And then we have not yet mentioned Pesti Vigadó's kind attitude to its guests and the marvellous panorama from the building.