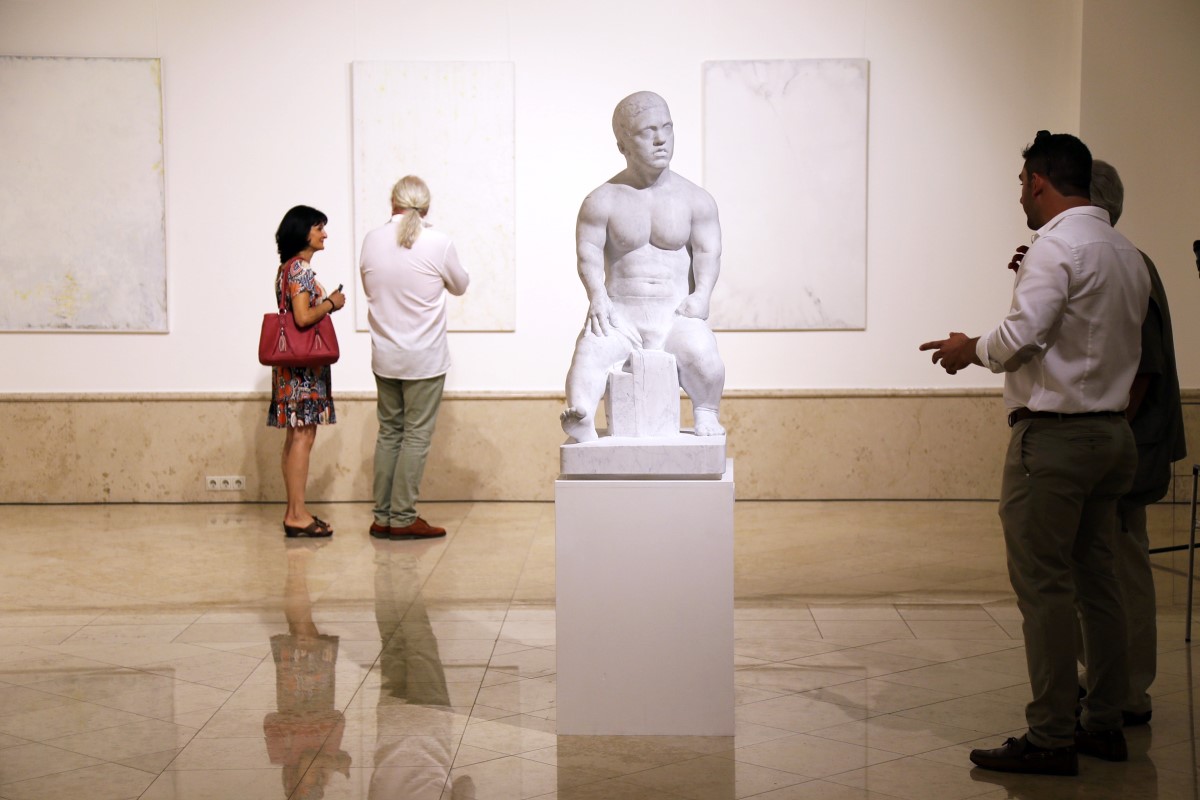 Recipient of Young Artists' Scholarship of the Hungarian Academy of Arts, fine artist Gergő Ámmer graduated from the Hungarian University of Fine Arts in 2017. He majored in sculpture and was a student of Pál Kő, Péter Gálhidy and Géza Sallai. Young sculptor Gergő Ámmer uses stone to create his artworks, but his gypsum compositions are an equally important part of his art.
Gergő Ámmer's work entitled "Hermes" was inspired by a copy of Lysippos' statue entitled "Seated Hermes" situated in Budapest's Mulberry Garden Artists' Colony. His artwork is an adaptation of this statue. Gergő Ámmer's statue presents this well-known iconic figure of Greek mythology, known mostly as the messenger of the Gods, in a new perspective and in a new light. Just like in the case of his compositions entitled "David", the young sculptor's model for this statue was paralympic sportsman Nándor Tunkel. Gergő Ámmer's choice of model questions the ancient and any currently existing idea of beauty and reinterprets it. The sculptor leaves the traditionally accepted iconographic programme behind: in his composition, Hermes is resting on a very old TV set, which signals that Hermes has a difficult job if he wants to keep up with the latest technological inventions in his capacity as God of communication. Through his choice of material, the artist relies on an ages-old sculptural tradition and follows masters of the Antiquity: this dense structured, crystalline and granular metamorphic stone, knows as marble, was a much-liked material already in the Antiquity. Later the outstanding master of the Italian Renaissance, Michelangelo also exhibited great fondness for this material. Thanks to its radiating nobility, marble assumes a distinguished role even in contemporary arts.
Interestingly enough, the sculpture arrived at the showroom only a few hours before the opening of the exhibition. The artist kept working on the sculpture until the very last minute, making this artwork the "most contemporary" of all exhibits currently on show in Pesti Vigadó. The first showcasing of the statue "Hermes" is currently taking place in Pesti Vigadó.