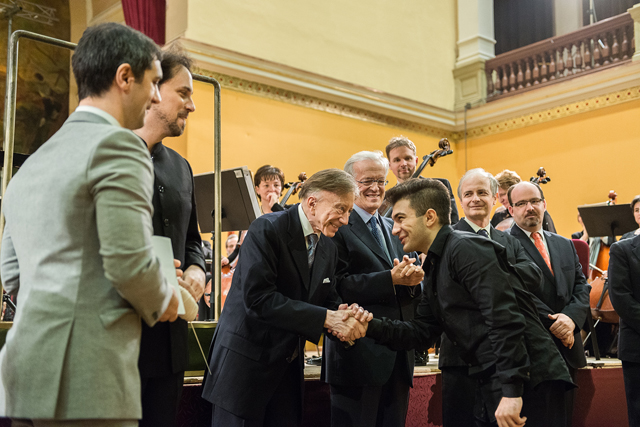 Concert
2018.11.12. 19:30
2nd Antal Doráti International Conducting Competition Gala Concert
Ticket prices
2.990 HUF, 3.990 HUF, 4.990 HUF
The competition, which precedes the Gala Concert, is organised with the cooperation of MÁV Symphony Orchestra, Studiomusica International Artist Management, Studiomusica Hungary and CIDIM.
At the Gala Concert, the audience will be able to view, as a special treat, the contest between those conductors who could enter the competition's final. In addition to cash prizes, award-winning conductors will be able to benefit from excellent performance opportunities offered in Hungary, Italy, Russia, Slovakia and Spain. In addition, Peter Eötvös Contemporary Music Foundation offers the opportunity for the competitor who performs the most outstanding contemporary music to take part in the Foundation's workshop organised in 2019. The jury of the competition will be presided by Tamás Vásáry.
Organizer: Operettissima
Ticket prices
2.990 HUF, 3.990 HUF, 4.990 HUF
Event location
Ceremonial Hall
The stunningly beautiful Ceremonial Hall situated on Pesti Vigadó's second floor is an excellent venue for concerts, cultural events, conferences, standing and seated receptions, gala dinners and other similar events.
Read more about this location