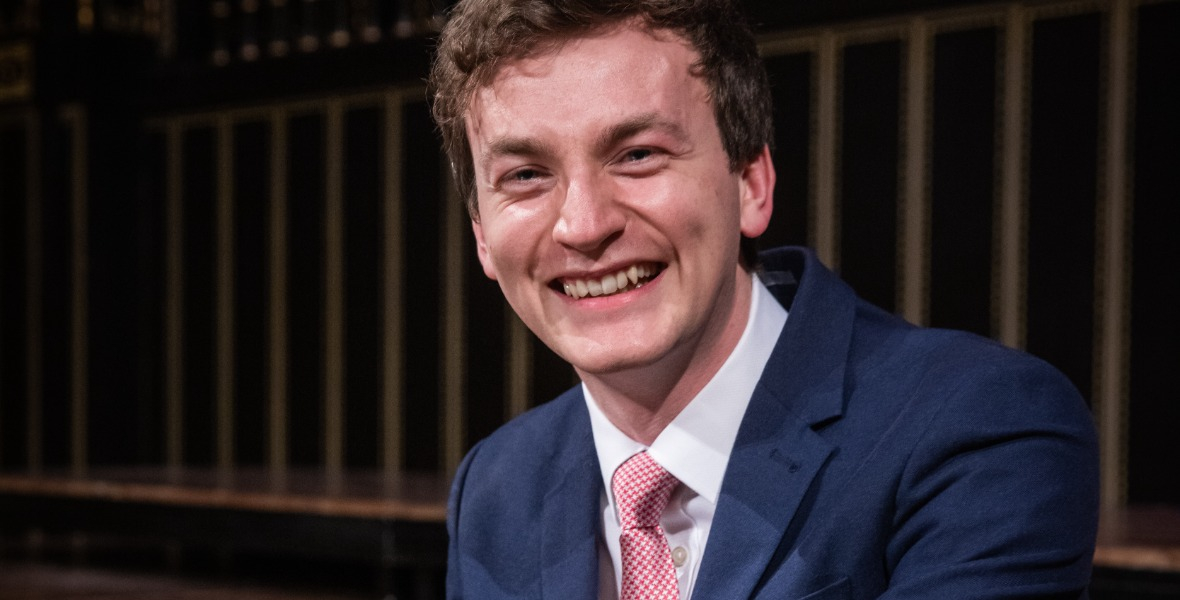 Concert
2023.02.16. 19:30
Dance
Pászti season ticket 3 - Hungarian National Philharmonic
Conducting this special concert for choral music lovers will be the award-winner of the Hungarian National Choir's international conducting course led by Gary Graden, Jack Apperley, who said, "I had a fantastic time and was exposed to many new experiences! I am delighted that the choir voted for me to join them for a concert next season. I am incredibly grateful for this wonderful opportunity and I look forward to making it happen and to when our paths inevitably cross again at some point in the future."
Jack Apperley will conduct works by such committed composers of choral music – by an Englishman, an American and two Argentines – among whom some are happy to combine singing genres with dance characters, and he is more than prepared to bring these within the framework of church music.
Eric Whitacre (1970) is an American composer who is primarily known for his choral works. He has been Artist in Resident at the Los Angeles Master Chorale since 2016. Carlos Gardel (1890-1935) was a legendary creator of Argentine tango whose name became synonymous with and integral to the genre. Jody Talbot is a remarkably versatile British composer who works with countless different styles and genres. His choral works are among the best known of his creative output. The Argentine Martin Palmeri (1965) is a composer, conductor, chorusmaster, pianist and singer who is equally committed to church music and tango.
Gabriella Busa is a member of the alto section of the Hungarian National Choir and regularly performs operatic roles. The pianist Dóra Bizják has been a répétiteur for the Hungarian National Choir since 2002. As part of the Duo-Klavi-Art with her husband Károly Zentai, she regularly performs pieces for four hands and two pianos. Mihály Demeniv has been playing the accordian since he was four years old. He became known nationwide in 2014, when he won the special prize in the Virtuózok television talent show. The chorusmaster for the concert, Jack Apperley, was a student of the Royal Academy in London and is dedicated to choral music. He has conducted a number of choirs in his career to date and has enjoyed success in several international competitions.
Programme:
Eric WHITACRE: Five Hebrew Love Songs
Astor PIAZZOLLA: Négy évszak Buenos Airesben - No.2, Nyár (transcript by José Bragato)
Astor PIAZZOLLA: Libertango
Joby TALBOT: Path of Miracles, No. 4, Santiago
---Interval---
Martin PALMERI: MisaTango
With:
Gabriella BUSA - voice
Dóra BIZJÁK - piano
Mihály DEMENIV - accordion
János BODOR - violin
Eszter KÖKÉNY - violin
Dénes LUDMÁNY - viola
Balázs KÁNTOR - cello
Tibor ZSÁKAI - double bass
Hungarian National Choir (choirmaster: Csaba SOMOS)
Conductor: Jack APPERLEY, award-winner at Gary Graden's master class
Presenter: Roxána SOMOGYI
Organizer: Hungarian National Philharmonic
Featured image: Jack Apperley, photo: Szilvia Csibi
Event location
Ceremonial Hall
The stunningly beautiful Ceremonial Hall situated on Pesti Vigadó's second floor is an excellent venue for concerts, cultural events, conferences, standing and seated receptions, gala dinners and other similar events.
Read more about this location