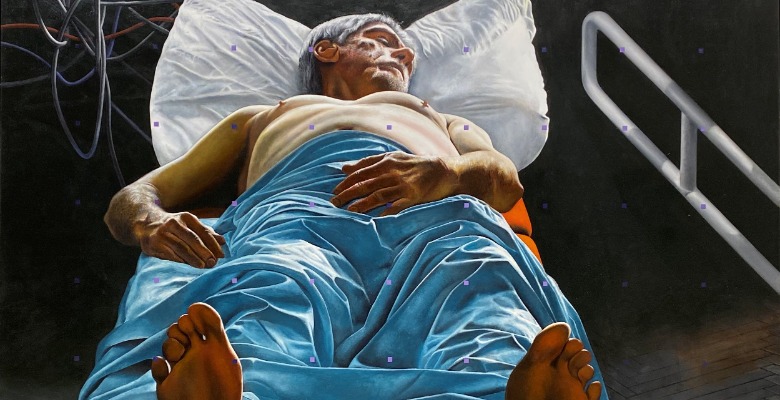 György Jovián: Pallium Mariae
Work of Art in Focus – January 2022
"When doing arts, my point of departure is myself. I try to incorporate my personal character traits in the artwork I am actually engaged in creating. Such acts of creation are about my own life and the urge to paint,"
explains Munkácsy Mihály Award winning Transylvanian-born Hungarian minority painter and graphic artist, member of the Hungarian Academy of Arts' Section of Fine Arts György Jovián discussing his ars poetica.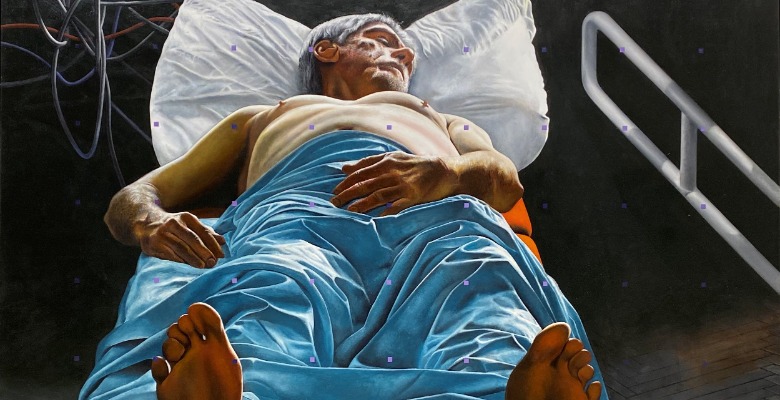 György Jovián: Pallium Mariae, 2011, oil, canvas, 170 x 200 cm (67 x 79 in), Budapest History Museum's Kiscell Museum and Municipal Picture Gallery
Șimleu Silvaniei (Romania) born György Jovián creates abstract artworks (e.g. his Demolition Series) and realist style figural paintings (e.g. his Girl with Unicorn Series). His exhibition entitled LXX currently staged in Pesti Vigadó also offers an insight into these two segments of his artistic world.
György Jovián's most characteristic manner of artistic expression comprises the fine elaboration of details and the mixing of mythological, philosophical as well as even ordinary and everyday images. In recent years he has mostly been using oil and canvas to produce his artwork. György Jovián often presents sacral themes, and portrays everyday events and moments in a sacral style. His paintings frequently present melancholic images that exhibit the theme of "raising a mirror to human fate" as Hungarian painter and graphic artist Gábor Lajta phrases it. In addition to the topics of loneliness, mortality and spiritual emptiness, György Jovián is especially interested in the state of being defenceless. A characteristic element of his compositions is the small squares or raster points featured in different colours on his paintings. These squares function as a kind of a plain of division: these divisions represent an invisible and symbolic wall between the artwork and its beholder.
The painting entitled Pallium Mariae presents a recurring theme in György Jovián's art: in this artwork the beholder faces the "aesthetics of the state of helplessness", and is looking at a lying and vulnerable man, who is no one else but the painter himself. This way, the artwork is a self-portrait with a strange composition scheme. In the beholder, this unusual setting plainly and explicitly conjures up the artwork entitled Dead Christ (aka. Lamentation over the Dead Christ; ca. 1480; tempera, canvas; Pinacoteca di Brera, Milan) by Padua-based painter Andrea Mantegna, who was active as an artist in the Quattrocento era of the Renaissance. The resemblance between the presentation of the images created by the Italian painter and by György Jovián's is so strong that Pallium Mariae can be considered a paraphrase of Dead Christ. Both paintings present the figures in highly unusual settings. The bizarre perspective of both images (bottom view with exaggerated foreshortening) largely determines the beholder's place and attitude to the theme: beholders feel they share a space with the figure portrayed, which creates a feeling of intimacy concerning this very special experience. The Renaissance artwork by Andrea Mantegna caused an outrage in its own time and was pushing the boundaries of blasphemy by portraying the dead Christ in this a manner: Christ is shown in a position of being defenceless and weak.
Written by Hanna Imre