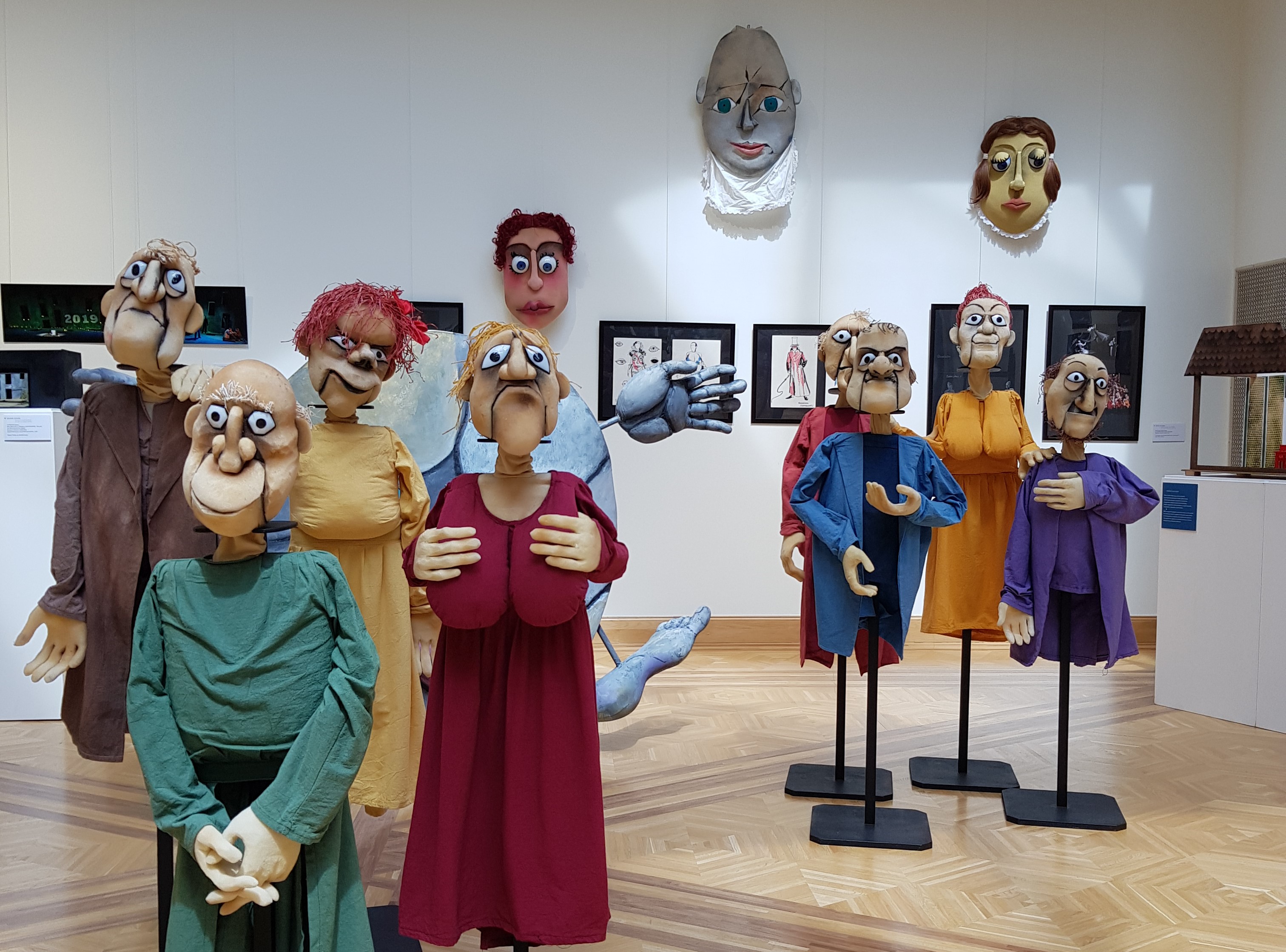 Klaudia Orosz: The Giant Baby (stage design, costume and puppets)
Work of Art in Focus – May 2023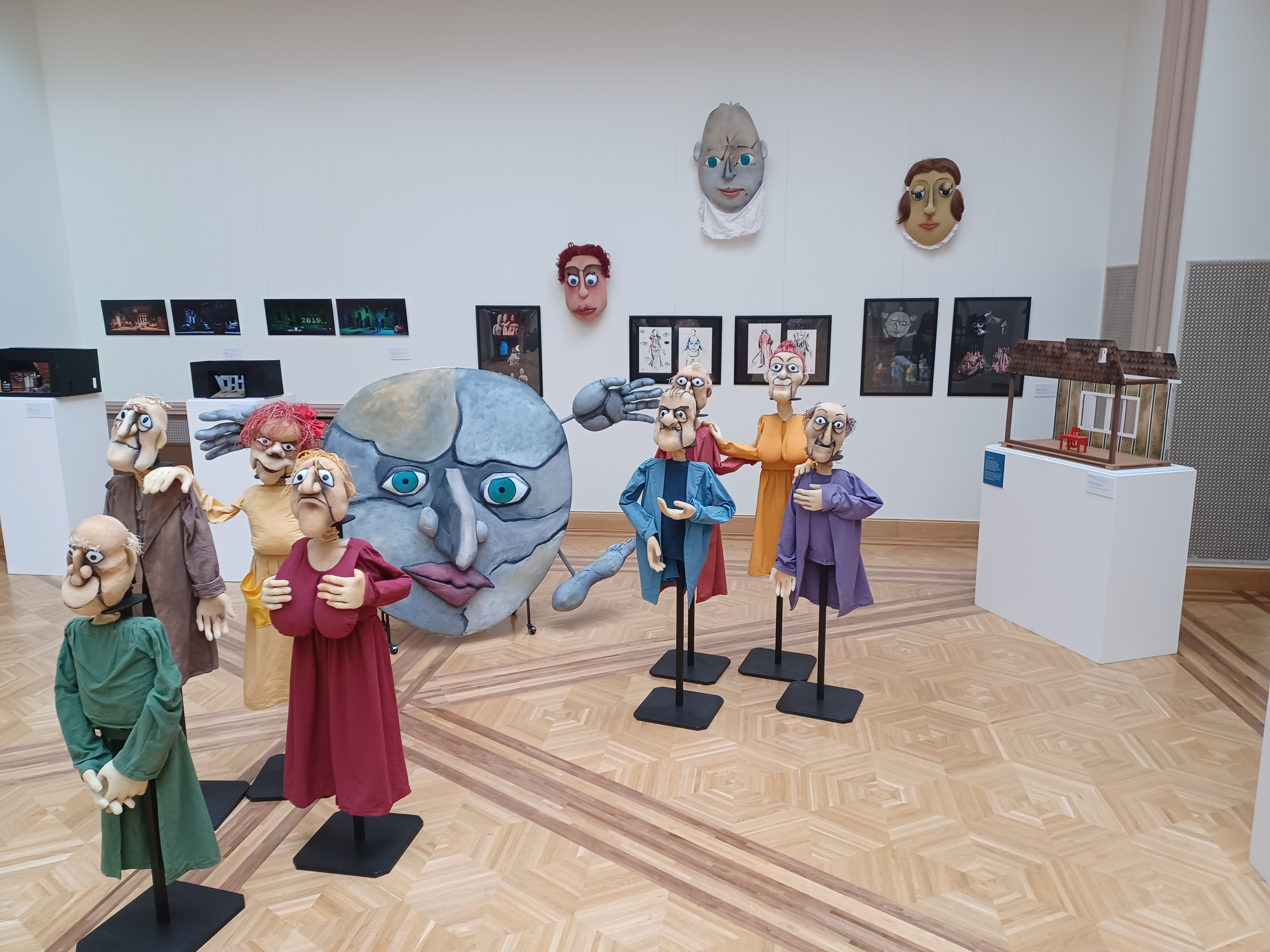 Klaudia Orosz: The Giant Baby (stage design, costume and puppets)
Tibor Déry and Gergely Vajda: The Giant Baby
Directed by: János Novák
Armel Opera Festival, MuTh Theatre, Vienna, 2018
"Why puppets? A puppet is born for a role: it is the embodiment of a character and can put on unrealistic performances thanks to the use of different proportions, materials and mechanical solutions it features. In its own role, the puppet can appear as a symbol in its capacity as an abstract, metaphorical and allegorical character."

/Klaudia Orosz/
For the Work of Art in Focus for the month of May, the puppets designed by Klaudia Orosz have been selected. The puppets are characters from the puppet opera entitled 'The Giant Baby' and are showcased in Pesti Vigadó's sixth floor exhibition hall. The performance 'The Giant Baby' directed by János Novák had been premiered at the Armel Opera Festival in Vienna in 2018 before it was performed in Hungary. Based on Tibor Déry's avant-garde play of the same title, the opera takes the audience on a journey portraying the stages of a man's life from infancy to early adulthood.
"What is the meaning of life?" In whose hands should we leave our fate? Whose advice should we follow? Is Woman an unfathomable mystery? What is the meaning of affection, love, money, society and duty?" Will this opera offer answers to these questions?
Klaudia Orosz was born in Belogradchik (Bulgaria) in 1954. Between 1973 and 1978 she studied at the National Academy of Art Sofia, and majored in stage and costume design. In 1978 she moved to Budapest, where she worked as a drawing teacher and then as a puppet maker at Budapest's State Puppet Theatre. In addition to her job at the State Puppet Theatre, she worked as a puppet designer and scenist at Bóbita Puppet Theatre in Pécs, at Ciróka Puppet Theatre in Kecskemét and at Harlekin Puppet Theatre in Eger. Since 1992 she has been the artistic director of Kolibri Theatre in Budapest.
So far, she has had over 150 performances and 22 solo exhibitions including ones in Budapest, Eger, Kaposfüred, Pécs, Gyöngyös and Sofia, and she has also participated in numerous group exhibitions both in Hungary and abroad. In 1998 she received the Special Prize of the Triennial Exhibition of Theatre Set and Costume Design in Novi Sad. In 1999 she was awarded Jászai Mari Award, and in 2015 she won the award of Costume Designer of the Year. In 2019 she was bestowed the Knight's Cross of Merit of the Hungarian Republic, and in 2021 she received Blattner Géza Award.
The artwork of the month of May can be seen at the exhibition entitled Stagespace – 15 years in the exhibition spaces on the 5th and 6th floor of the Pesti Vigadó until 25th June.