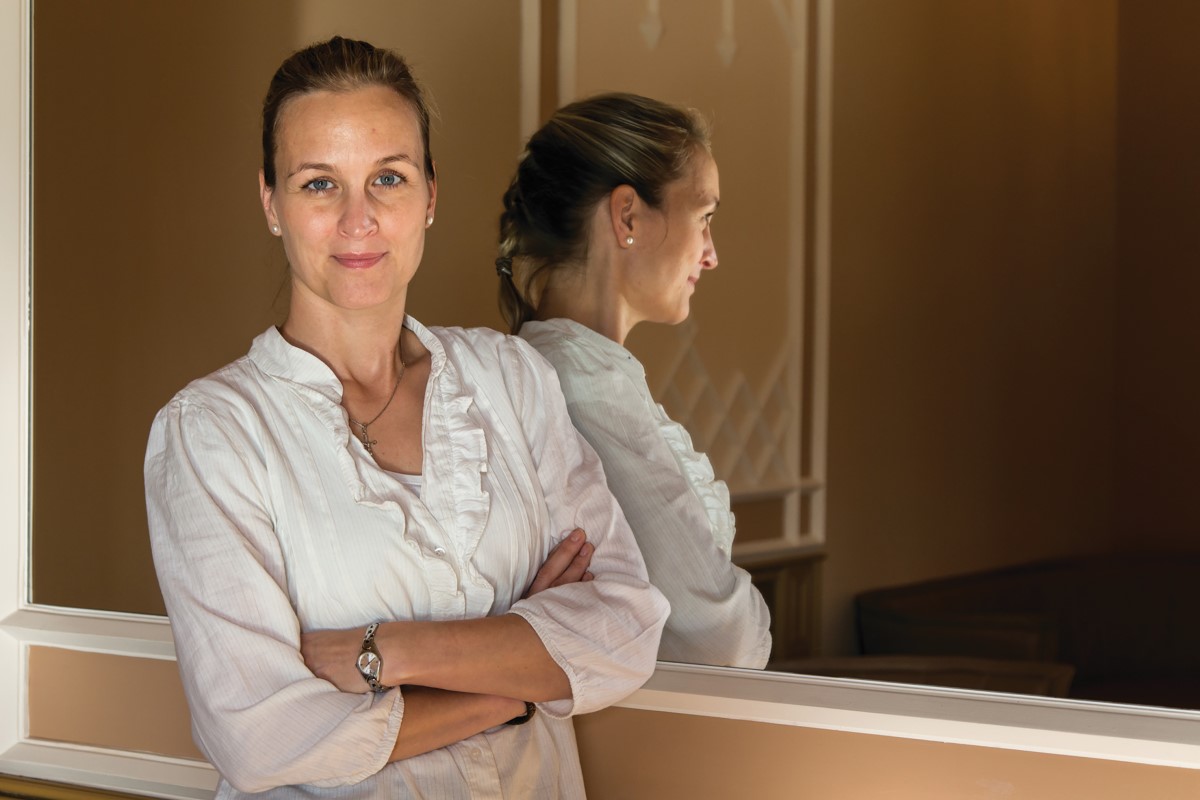 Pesti Vigadó Nonprofit Ltd.'s history started five years ago, and it was also five years ago that Pesti Vigadó's programme magazine, published quarterly, came out first. By now, the one-time small booklet has been transformed into a lively magazine, which features appetisers to performances held in Pesti Vigadó as well as interviews, discussions and descriptions of colourful events from the history of the building. In the scope of this interview, we talked to Pesti Vigadó's Executive Barbara Molnárné Szunyi about Pesti Vigadó's achievements so far and we also discussed future plans.
What are Pesti Vigadó Nonprofit Ltd.'s tasks? What are its goals? And why was the Ltd. established?
Pesti Vigadó Nonprofit Ltd. was founded by the Hungarian Academy of Arts in 2014. Our task, therefore, is to operate and manage this unique venue dedicated to cultural and arts programmes, but our activities are not restricted to these jobs only. Pesti Vigadó's team is also engaged in a wide range of activities including communication, tourism-related projects and event organisation.
With regards to the past five years, what would you say was Pesti Vigadó Nonprofit Ltd.'s most outstanding achievement?
The achievements of such a venue can be measured by the success and number of events held on its premises. Over the past five years, Pesti Vigadó was home to over 850 cultural programmes and soon it will house its 120th exhibition. Apart from arts events and with a view to the venue's free capacities, 450 Hungarian and international protocol and non-public events were held in the building, through which Pesti Vigadó assumed its role in advancing Hungary's conference tourism. I am glad to say that numerous Hungarian and international partners of ours, both from cultural and business circles, are our return customers. This serves as a positive reinforcement for us and shows that our clients are satisfied with the quality of services we offer. The building is open on almost all days of the year; and Pesti Vigadó has so far organised 1,600 guided tours for our Hungarian and foreign guests interested in the past and the history of the building.
Certainly, the over 3,000 events could not have been successfully realised without the joint effort of Pesti Vigadó Nonprofit Ltd.'s staff and its subcontractors. There is an immense amount of attention, careful planning, precision and striving for perfection invested in every event, and Pesti Vigadó organises hundreds of events every year. Even so, Pesti Vigadó's staff does not do their work in a routinised manner. They pay careful attention to each event, as they know that those who request Pesti Vigadó to host their programmes have been looking forward to their event really quite much. For me, in my capacity as Executive, the biggest success has been the recruitment, development and management of this team as well as the continued assurance of the high quality of services provided by this venue.
Which of the events held in Pesti Vigadó are the closest to you personally?
Although Pesti Vigadó operates as a venue hosting 'ready-made' programmes, our attitude to all events is of a parental kind: we provide background support to the organisers from the very start to the very end of the organisational process. Also, a few times a year Pesti Vigadó's team jointly creates the concepts behind some of the events staged on the venue. Such an occasion was the series of events Pesti Vigadó organised in commemoration of the 150th anniversary of the opening of the building and another one is our "Open Doors" Day, organised for the 8th time this year, which offers free-to-enter programmes including visits to the building, to its exhibitions and to other programmes staged on that special day. The significance of the "Open Doors" Day lies in that it keeps enjoying the general public's continued interest in the building due to the venue's rich and unparalleled historical past. And, on the other hand, on that day all family members can concurrently take part in art and cultural programmes offered by Pesti Vigadó: this feature marks the "Open Doors" Day as Pesti Vigadó's biggest annual family event.
Perhaps visitors do not know about the custom that it is personally you, the Executive herself who receives visitors at the registration desk on each "Open Doors" Day. Why is a personal meeting with the visitors important for you?
Not only the visitors but also Pesti Vigadó's entire staff look forward to these occasions: on these days, Pesti Vigadó receives 1,500–2,000 visitors within a very short time and this event offers us the opportunity to get first-hand feedback from our guests. For me it is natural to be standing next to or among my colleagues on these days: I also stand in the front line. I have heard some incredibly interesting and moving stories in connection with the building, and I have been told many new pieces of information and have been given valuable feedback. Whatever I hear or see helps me to develop Pesti Vigadó's services and to retain our visitors. I view these occasions as important meeting points between the staff and our guests.
What do you like most about Pesti Vigadó's building?
There is no one single feature I could highlight on its own. I believe that Pesti Vigadó profoundly influences and inspires artists who perform here, and it also inspires us, who work in this environment. The building itself – thanks to its stories, history and exciting future – presents us with professional challenges and poses certain expectations that we strive to meet day by day.
What can one like about the programmes hosted by Pesti Vigadó?
All events staged in Pesti Vigadó contribute to the rich past of the building by leaving some remnant memory behind. Thanks to this, there is a peculiar discourse between today's events and the events that took place 150 years ago. It is this dialogue that makes everything that happens in Pesti Vigadó unique.
Concerning the near future, what expectations surround Pesti Vigadó and what jobs do you envisage?
The 21st century has been creating newer and newer opportunities. We must identify these opportunities so that we can offer our partners and guests services that meet today's expectations. At the same time, we should always do our jobs with the objective in mind that Pesti Vigadó should be a definitive cultural and arts centre also in the future while retaining its historical past as a protected and listed building.
Certainly, we have varied and unique events in mind as far as the future of Pesti Vigadó is concerned, and I hope that we can continually expand the range of programmes and workshops dedicated to families and children.
What role do you think Pesti Vigadó assumes in Hungary's cultural and art world today?
Throughout its life, Pesti Vigadó has been an essential player in Hungary's art life.
Based on the achievements and successes of the past five years as well as on the basis of feedback from our visitors and with respect to the professional awards and recognitions Pesti Vigadó has received, I assume that we have managed to realise the objectives we set ourselves five years ago and I am positive that Pesti Vigadó is on the right track.