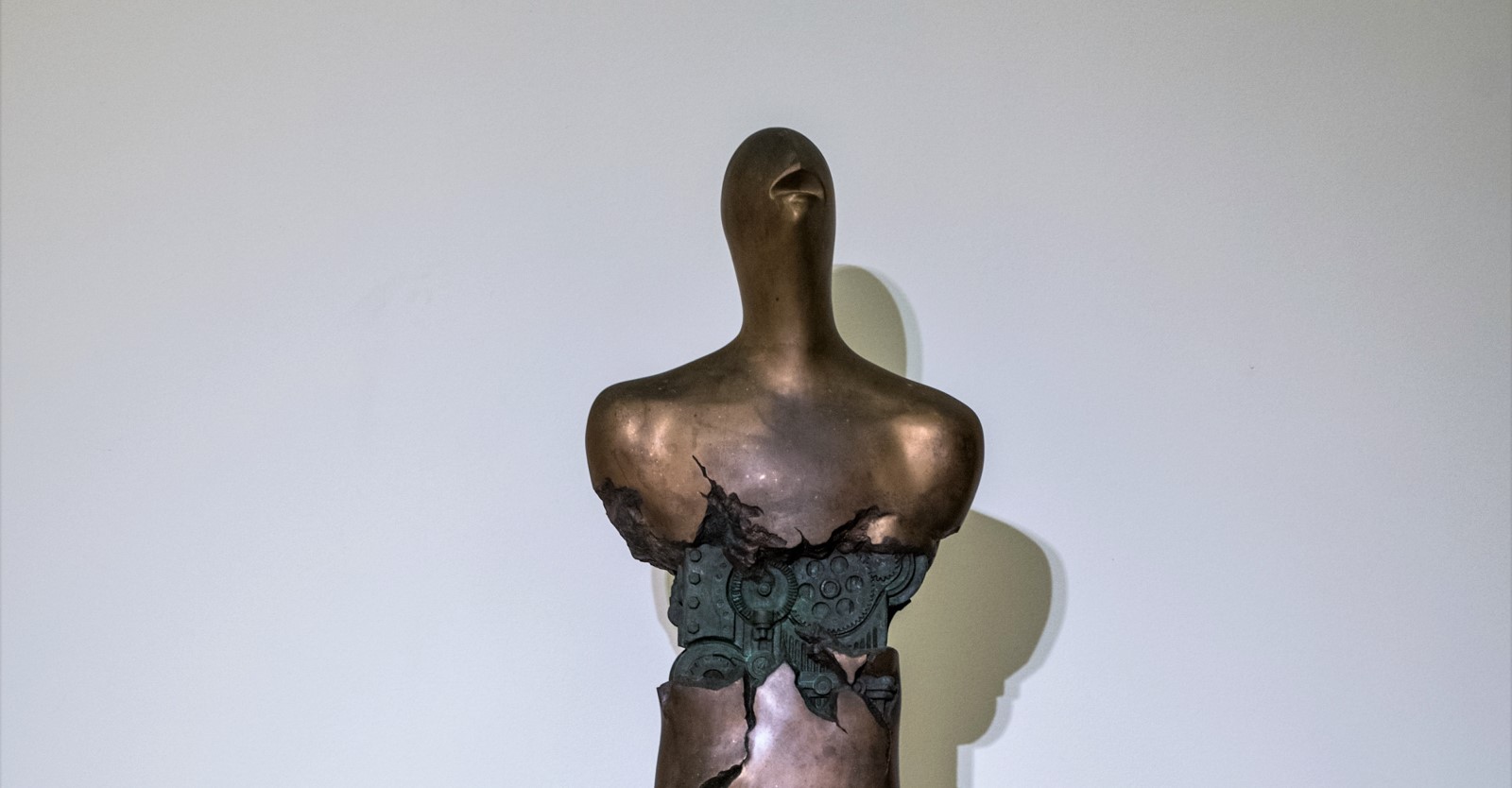 Róbert Csíkszentmihályi: Machine Man
Work of Art in Focus – January 2021
1996, bronze, 240 cm
Is man still the most developed species here on Earth? Or have intelligent machines taken control over humankind? What is the current situation? Where are we heading? What is going to happen to us in our lifetime? What will happen to the next generations? These are all questions waiting to be answered. Especially now during the current exceptional period plagued by the COVID-19 pandemic.
While looking at the exhibits at Róbert Csíkszentmihályi's showcasing and when approaching the Machine Man, one inevitably and inadvertently steps back to move away from the monumental statue with a height of 240 cm (app 8 ft). Due to its tall-built, we can only see the giant slim statue in full if we move a bit away from. Actually, the statue looks down at us as if it was waiting for some command. But the figure also seems empathic enough to be willing to caress us if we are speaking nonsense. If one has had a look at the full figure, they must go closer to it to carefully observe the tiny components visible in the figure's chest. These small parts are reminiscent of a watch mechanism, and this way the figure appears to be controlled by time. Maybe it really is controlled by time... By time, which sometimes flies by and other times seems to stop, it heals wounds, and it is also capable of helping us to later tell what is true and what is not.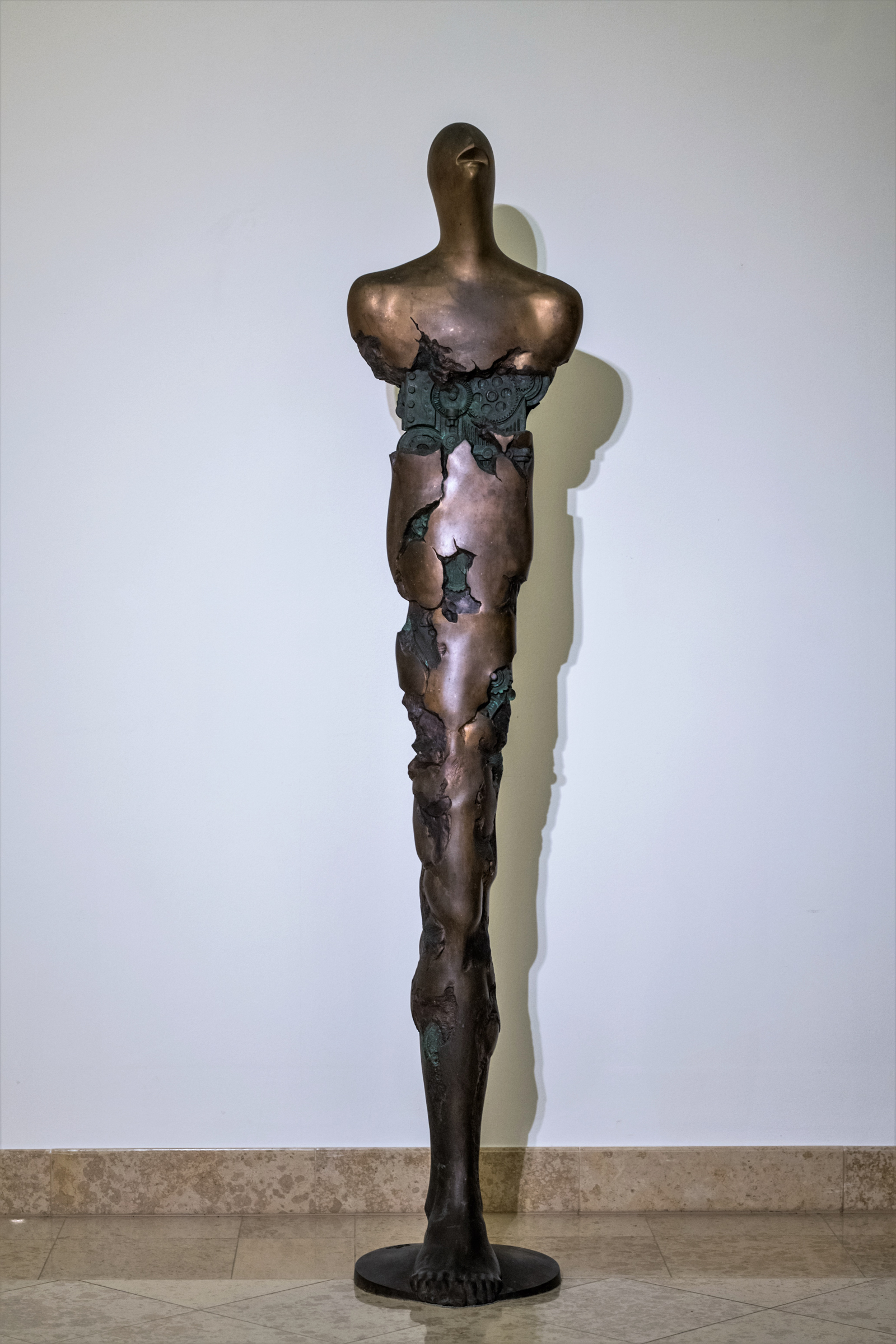 Regular Member of the Hungarian Academy of Arts and 'Artist of the Nation' and Kossuth Awards winning sculptor Róbert Csíkszentmihályi celebrated his 80th birthday last year. On this occasion, the Hungarian Academy of Arts presented him with the opportunity to stage a lifework exhibition. However, due to the epidemic, this showcasing was realised in an exceptional way: the exhibition can receive no visitors for the time being, so those interested must make do with photos and short films instead.
During his childhood marred by World War II and the ensuing difficulties in the years to come, Róbert Csíkszentmihályi grew interested in drawing and painting. This passion of his prompted him to attend a secondary school of fine arts and then to continue his studies in the Hungarian College of Fine Arts, where he was taught by Pál Pátzay and Iván Szabó. He graduated in 1965. As a young artist, he was highly influenced by Miklós Borsos' and Ferenc Medgyessy's works as well as by his study tours abroad. At the beginning of his career, he prepared his sculptures from wood and limestone. Later, after having assumed further professional recognition, he used bronze and marble. A significant part of his lifework is devoted to medallists' artworks, some of which are also showcased at this jubilee exhibition as an appetiser to artworks of this kind. Also featured are his ironic and grotesque animal and human figures from the 1990s exhibiting human characteristics. His monumental works of art are visible only on photos, and a selection of his so-called small sculptures handpicked by curator Tibor Wehner is also on show.
Numerous of Róbert Csíkszentmihályi's statues are located at public places in Hungarian towns including Budapest, Szentendre, Baja, Balatonalmádi, Békés, Dunaújváros, Kiskőrös, Kismaros, Mátészalka, Sárospatak, Siklós, Székesfehérvár, Tiszadob, Vác, etc., and his artworks are also hosted by several towns outside Hungary including Venice, Rome, Vordinborg, Bischofsheim, etc. His artworks are deposited not only in Hungarian but also foreign (United Kingdom, Poland, Germany and Italy) public collections.
It is hoped that the general public will have the opportunity to visit the exhibition in person up until the collection is showcased at Pesti Vigadó's premises until April.