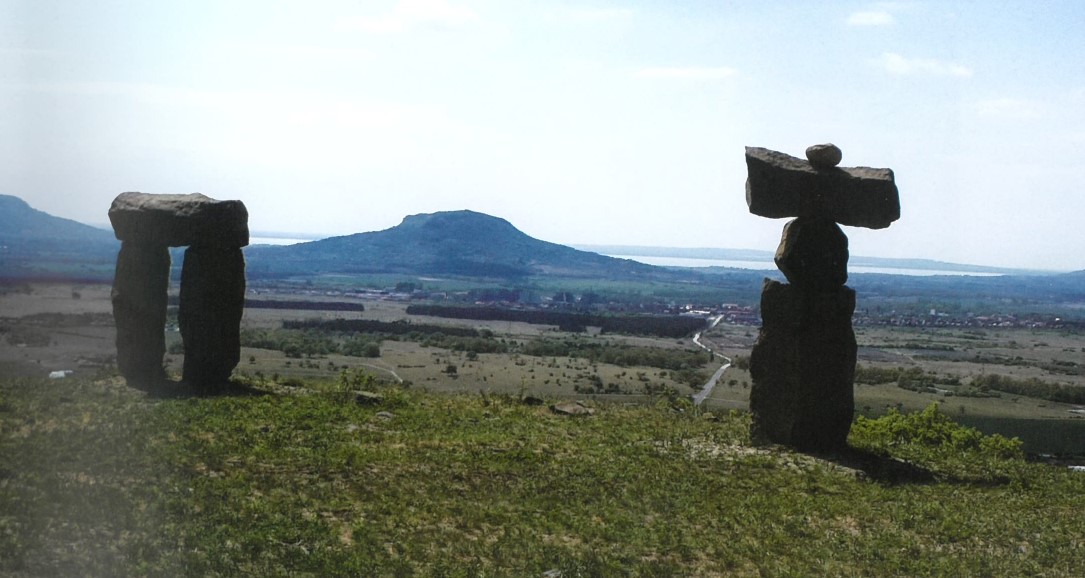 Zoltán Balanyi / Awakening Volcano
Work of Art in Focus – April 2022
This month's Work of Art features Zoltán Balanyi's multi-figure sculpture. The composition currently showcased in Pesti Vigadó is entitled Awakening Volcano. In many respects, the artwork offers visitors up-to-date messages.
On the one hand, we are approaching Easter and, on the other hand, we are celebrating Earth Day on 22nd April. How does all this relate?Awakening Volcano is in fact the name of a statue park on Haláp Hill situated in Hungary's Balaton Uplands region. Sculptors Rhea Marmentini and Zoltán Balanyi have created a new and special artwork as far as art and landscape are concerned, and have dressed the wounds of this undeservedly long-forgotten hill.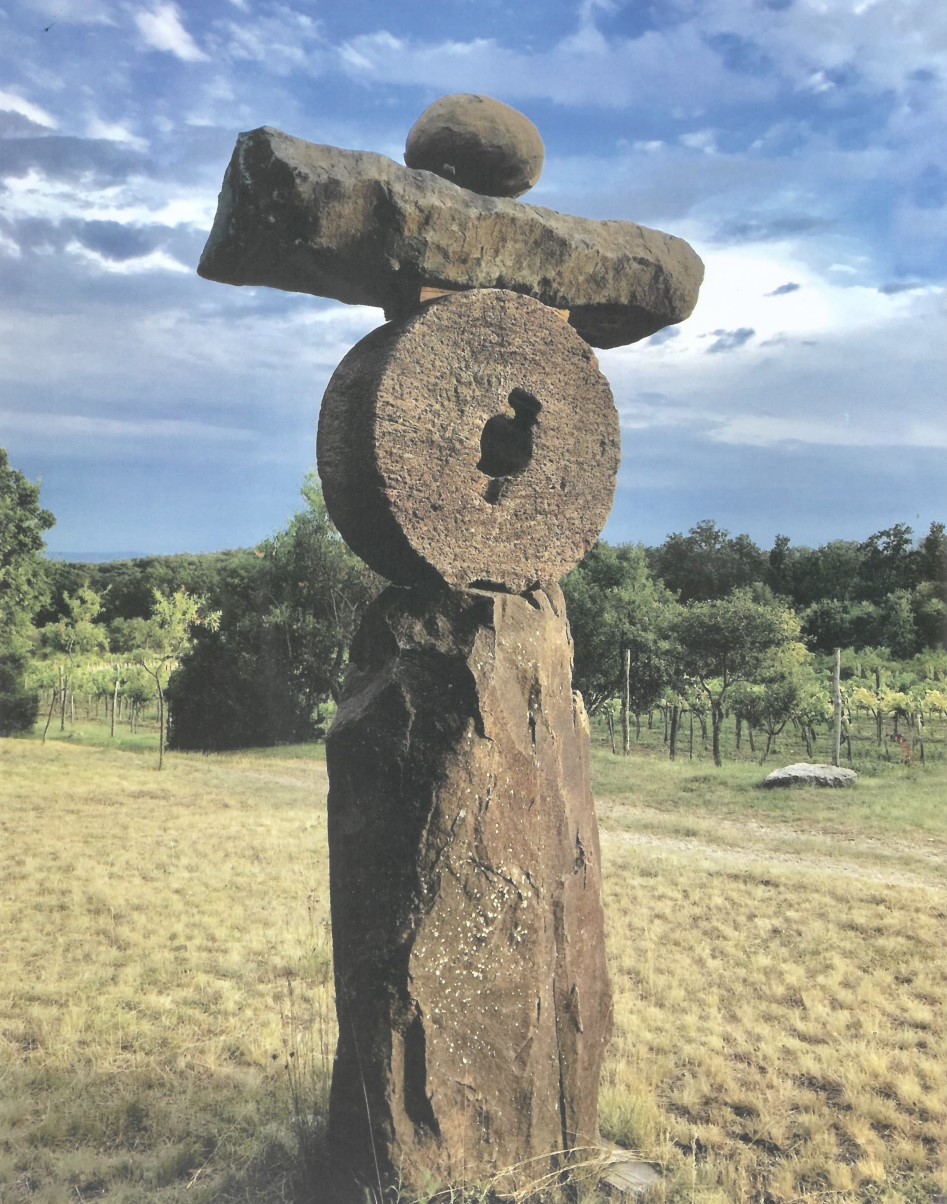 Zoltán Balanyi: Light Soul 2019, andesite, old millstone, basalt, 360x185x85 cm
In the close vicinity, and perhaps in the shadow, of the Balaton Uplands region's characteristically recognisable and special-shaped buttes, one finds the wounded Haláp Hill: this hills bears the ravages of human activity and shows the way a hill can be mutilated and scarred. The hill presents its own history by revealing something of and about itself. If we look at today's Haláp Hill, we can hardly imagine that the hill once was a special shaped basalt formation very similar to the region's famous Badacsony Hill. It is equally unbelievable that in its prime the Hill was as magnificent as its surviving neighbours. By now, mining activities have fully transformed the Hill, which has given rise to its nickname: "truncated butte". Through their artworks, Zoltán Balanyi and his fellow artists wished to dress the wounds of this beautiful scenery: they tried to offer remedy to the current situation and through their art they reinvigorated the area. The artists' aim was to breathe new life into the hill and, by dressing its wounds, the sculptors hoped to offer a novel perspective of the renewed beauty of this unique scenery. They wished to divert attention away from human-inflicted damage, and wanted to give back to the hill something that it had been robbed of quite a while ago.
In April, Christianity will again celebrate its greatest festivity and will remember Christ's death and resurrection. The artworks showcased this month also reflect on this Christian festival: through their titles and shapes the works conjure up Christ's journey to death and resurrection ("He was raised on the third day") in addition to presenting numerous mythological and ancient thoughts and values.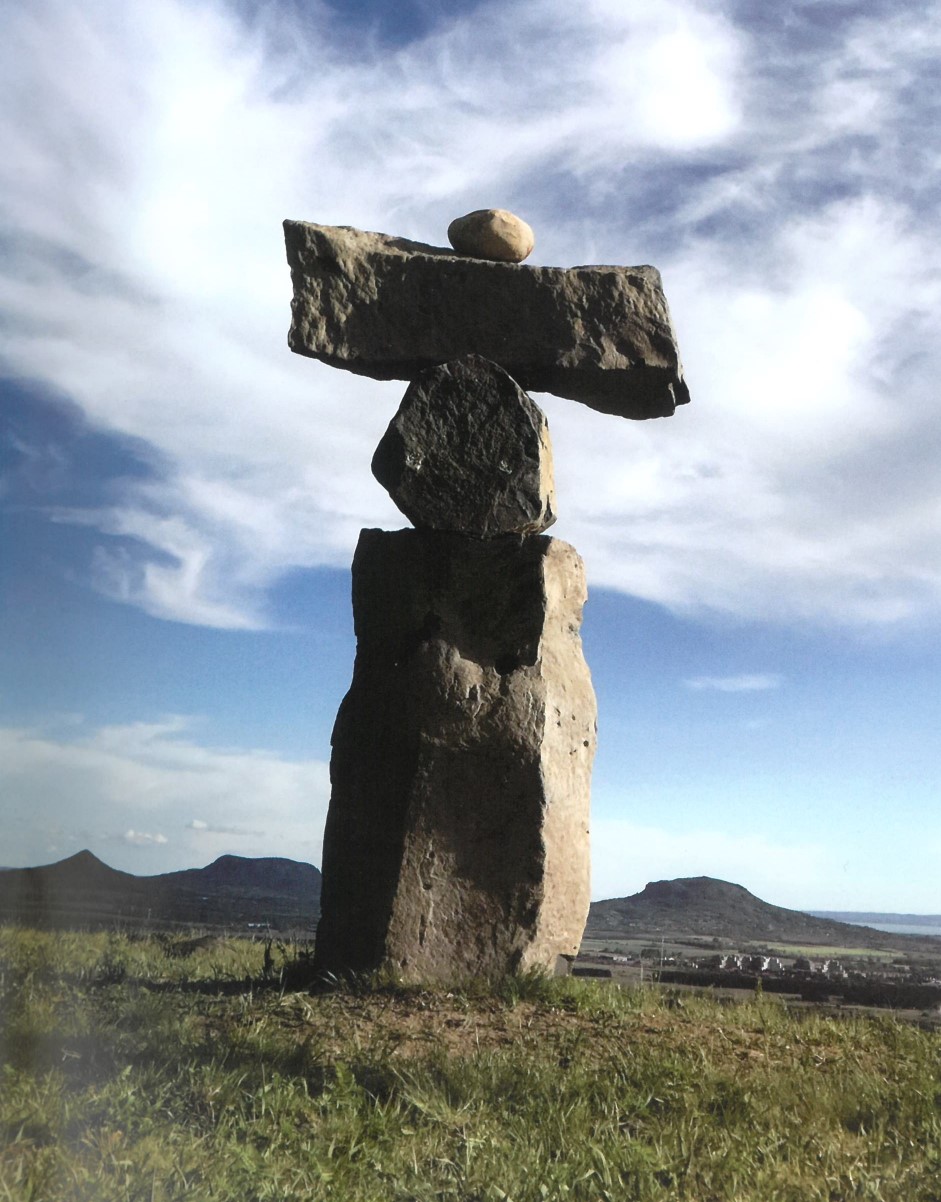 Zoltán Balanyi: Cloud 2019, basalt, sandstone, 315x175x90 cm
Wounds and rebirth constituting the metaphor and possibility of hope are present in Balanyi's artwork. The intellectual world behind his work is closely linked to numerous current social problems, which date back to a long time ago, whether they be related to the environment or society. By foregrounding the notion of wounds, the artwork draws beholders' attention to the protection and recognition of built and natural environments and human values, and through the example of a special landscape it shows the way one can help wounded landscapes and creatures, give them hope and offer them new opportunities. In this sense, Zoltán Balanyi's artwork creates a universal message understandable for all. In addition, the artwork also invites visitors to make a journey and contemplate so that they can discover – through their own individual paths – the messages Awakening Volcano offers.
The artwork of the month of April can be seen in the Departure exhibition until 8 May 2022 in the multi-purpose exhibition room on the 6th floor of the Vigadó.