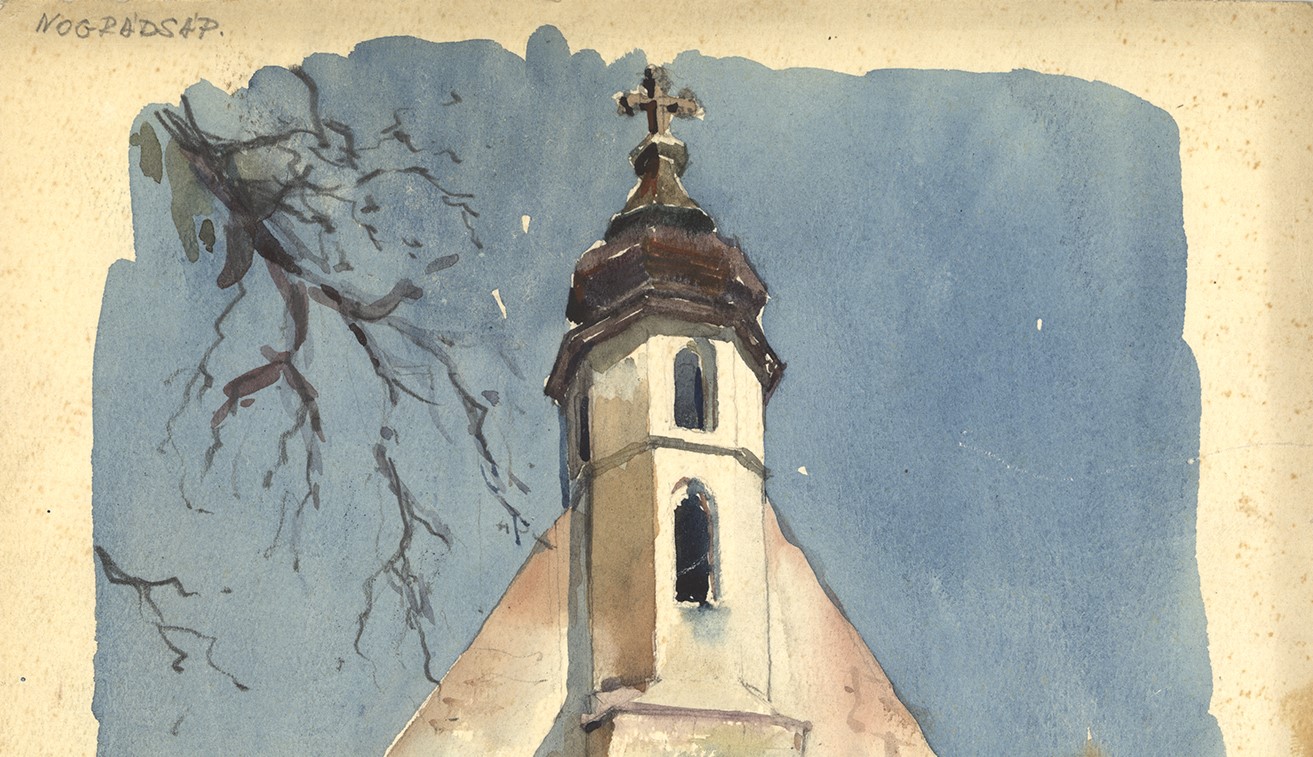 János Sedlmayr: Nógrádsáp (Hungary), Roman Catholic Church, west facade
Work of Art in Focus – November 2022
The featured image of the exhibition entitled "The Heritage of Centuries - 150 Years of Hungarian Historic Preservation" (organized by Hungarian Museum of Architecture and Monument Protection Documentation Center) is a is a pittoresque and sketch-like depiction. The image primarily strives to reproduce the romantic atmosphere of the then dilapidated Nógrádsáp (Hungary) based Roman Catholic church. Through its subtle means, the image still draws attention to the details observed in the church. The painting, for example, uses lines to indicate the ashlars from the Middle Ages then still covered by peeling-off plaster. The water-colour depicting the western front of the Gothic church was painted by János Sedlmayr in 1953, when he was a third-year student of architecture at Budapest University of Technology. During the summer vacation he took part at a study tour organised by the Department of Architectural History to take stock of the condition of Hungarian listed monuments.
János Sedlmayr: Nógrádsáp (Hungary), Roman Catholic Church, west facade, 1953
János Sedlmayr worked as a designer and head of workshop for the Hungarian National Monument Inspectorate for 40 years since the foundation of the institute, and during these decades he had become one of the decisive experts of this period. The The Roman Catholic church of Nógrádsáp was renovated in János Sedlmayr's workshop by his direct colleague Ilona Schőnerné Pusztai (who also features as an important character in the short documentary prepared on the occasion of the current exhibition). The research started in 1965, and the renovation works were completed by 1969. As for the exterior of the building, it was mostly the western front that had undergone substantial changes. The entry roof, which was mounted later and which is still visible on this water-colour, was removed. This way the original façade was restored to have a pilaster strip-like tower made of sandstone ashlars, situated in the middle of the façade.
The original of the A4 size image, which is featured twice in the scope of this exhibition, is showcased as part of an installation showing documentation-purpose activities carried out by university students. It also shows up on a huge screen of the exhibition hall in the form of a playful animation approaching the original scale of the building.
Erika F. Dóczi
The artwork of the month of November is on display at The Heritage of Centuries - 150 Years of Hungarian Historic Preservation exhibition in the ground floor exhibition hall of the Pesti Vigadó until 20 November.